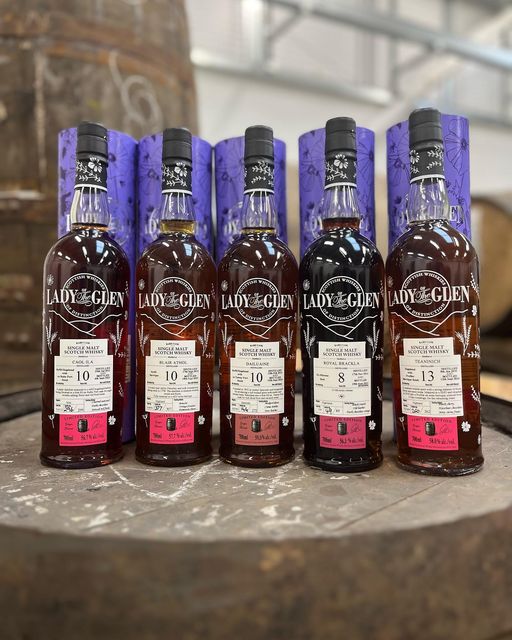 We are bringing a close to the year with four new Lady of the Glen releases, three Dalgety releases and the inaugural release from our St Bridget's Kirk Solera System, aptly named Batch #1.
In what has been one of the more challenging years from a cost perspective we are looking forward to releasing a range of Single Malts from Lady of the Glen that showcase our Dunnage and cask management while for Dalgety we stretch from cask innovation in the use of 'Super Porto' casks for Glen Spey to the traditional refill Hogshead classic Glen Moray.
Our recently installed Solera System releases its first batch of Non Age Statement Whisky and we are very happy with the initial result – St Bridget's Kirk Solera batch #1 is our small batch blend made up entirely of Single Malt Whisky blended together in casks and then placed in the 'three cask solera system'
Caol Ila 10yo – Ruby Port Finish
Islay's largest distillery by far produces one of the island's purest and cleanest spirits. This lighter character backed up by a peaty backbone provides versatility when it comes to adding secondary cask maturation. In this case the finishing cask has added red fruitand chocolate characteristics from more than 8 months in an ex-ruby port hogshead from our good friends at Josafer cooperage in Portugal.
 Dailuaine 10yo – Tawny Port Finish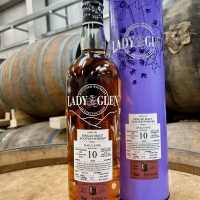 Located in central Speyside, this full bodied malt is rarely seen out-with the world of independent bottlers. The extra weight of this spirit allows us to be more adventurous with our finishing cask and in this case, it stood up well to over 2 years finish in a tawny port cask that added luscious dried fruit, toffee and caramel notes to the whisky.
Royal Brackla 8yo – Oloroso Butt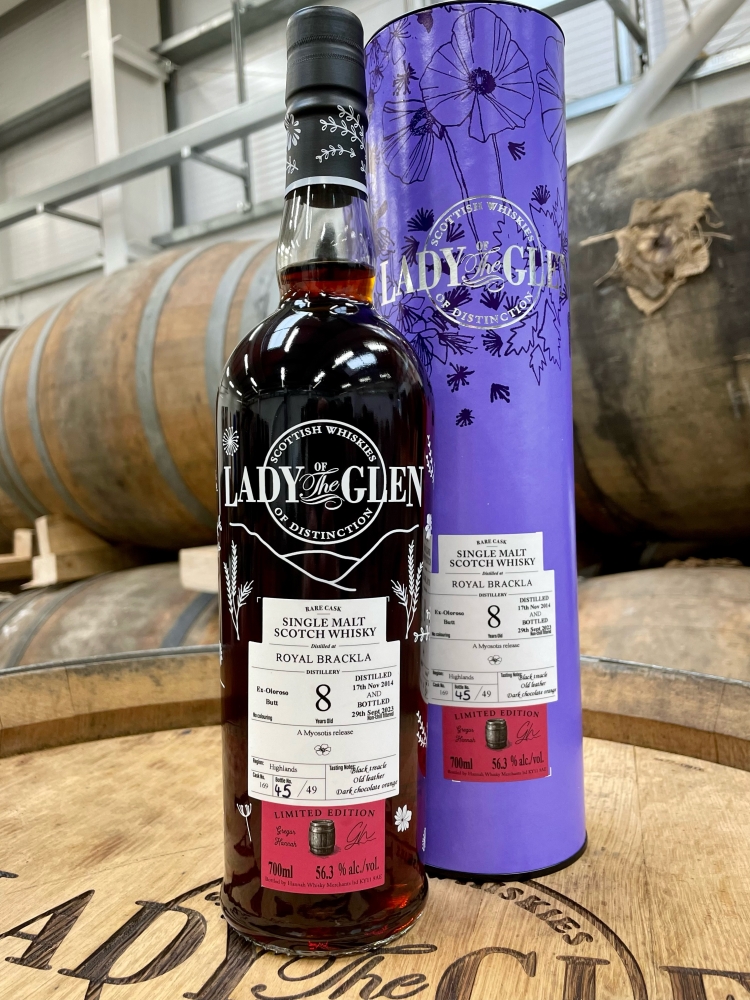 Our latest 'Myosotis' bottling – the Latin name for the 'Forget-Me-Not' flower. This is the perfect name for this bottling as it is a result of the remnants of a cask previously bottled to meet an exact yield. We rescued the nearly forgotten last drops to create a special edition of only 49 bottles. Fully matured in an ex-oloroso butt, this classic sherry bomb is surprisingly fresh and lively despite it's rich and deep colour.
Teaninich 13yo – Profiler barrique finish
This distillery produces a light and dry spirit that we see as a blank canvas to offer additional cask flavours. In this case, the whisky has spent over 5 years finish in a profiler wine barrique produced by the J.Dias cooperage in Portugal. The process of producing these casks, unique to J.Dias, is similar to an STR cask however, the toasting and re-charring is more gentle. This retains more of the residual wine flavours opposed to the intense oak from traditional STR casks.
Blair Athol 10yo – Refill Barrique
Located in idyllic Pitlochry this classic medium bodied highland malt gives us independent bottlers a lot of character to work with. In this case we have a single cask where the spirit has matured for its entire life in a refill ex-wine barrique allowing the spirit to take on a balance of the French oak notes and some softer wine characteristics over a longer period of integration.
Dalgety
Glen Moray 12yo – refill hogsheads
A classic example of this Elgin classic and one of the most underrated whiskies on the market (in our opinion). Fully matured in a pair of refill hogsheads for 12 years allowing the soft and gentle, vanilla and honeyed nature of this make to shine through. These were combined and married in a butt for a couple of months before bottling at 52.5%.
Glen Spey 10yo – Super Porto and refill port barriques
One of Diageo's smaller distilleries but equally as important to their blends as any of their others. This site quietly distills a nutty and oily new make, perfect when paired with the right finishing casks and for this edition, we have selected a pair ex-port casks. One of the casks is a refill ex-ruby cask but the other is barrique which has been seasoned with a premium 'Super Porto' wine from the Douro River Valley. Combined and married for a suitable time, these casks balance out beautifully the fruit and spice notes from distillery character and the secondary cask influence.
Linkwood 10yo – Oloroso Finish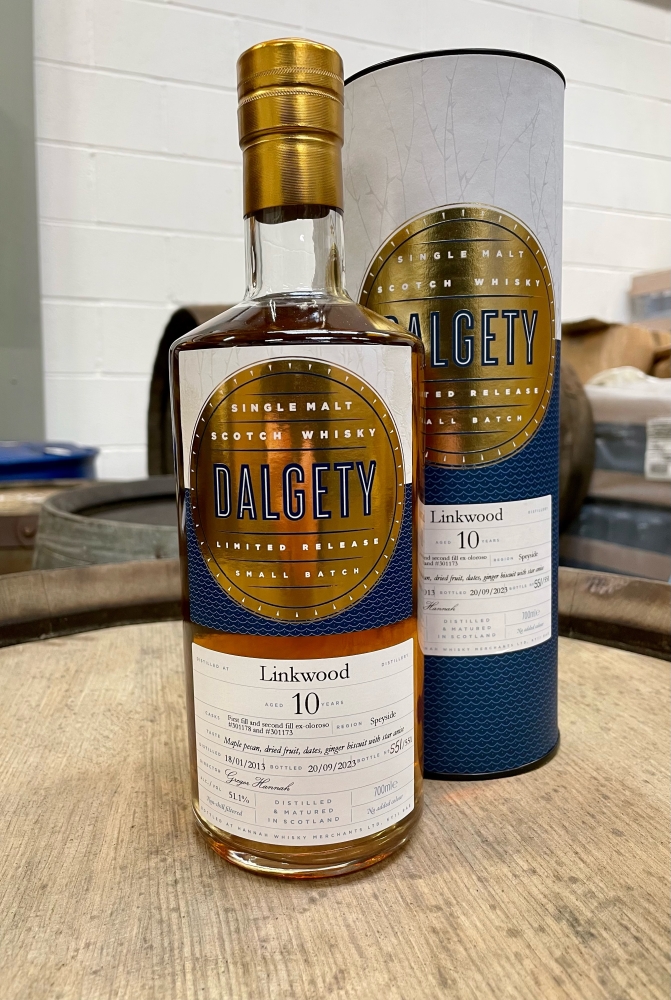 Back to Elgin for the final edition of this Dalgety release and to another classic Speyside style adored by blenders. This time the spirit is finished in ex-oloroso casks where balance is the key to us once again. To accomplish this balance we have paired a couple of ex-oloroso hogsheads, one first fill and one refill cask allowing the floral/fruity distillery character to shine through but with the addition on some wonderful dried fruit, nut and spice notes to compliment.
St Bridget's Kirk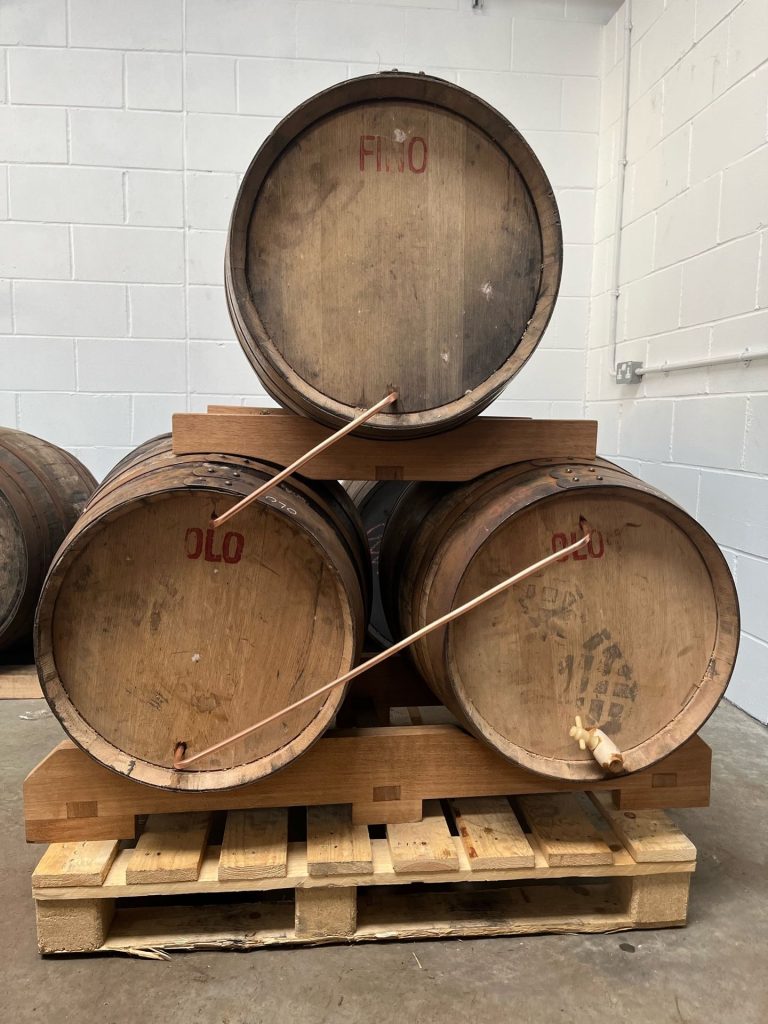 We have now installed a custom built solera system in our warehouse.
Originating in the sherry and port industries, a solera system involves multiple connected barrels. As whisky is drawn from the last barrel the first barrel is topped up. Our solera is made up of an ex-Fino sherry quarter cask and two ex-Oloroso quarter casks. Whisky flowing through the system will pick up new, deeper, flavours from these casks.
This exciting first batch carries the heaviest influence from the fresh casks creating a bit of a sherry bomb, however this is tempered by the peated element of the blend adding vibrancy and freshness.
In closing, thank you for your continued support and we wish you an enjoyable and restorative holiday season.
Best,
Gregor