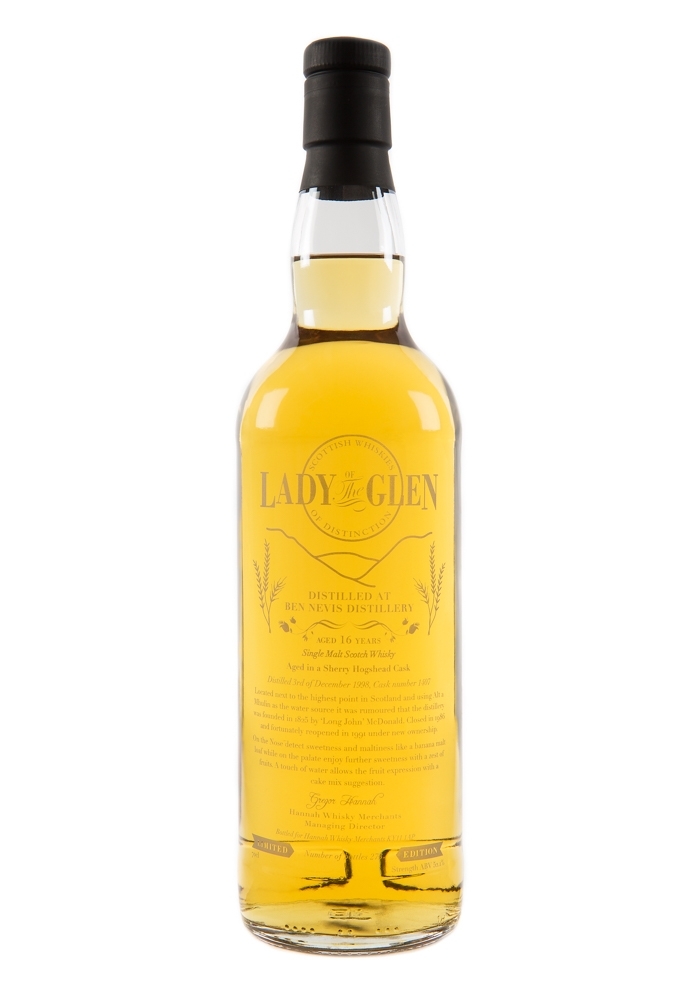 Banana malt loaf with sweetness and maltiness, this single cask Ben Nevis has a luscious sweet taste. Distilled in December 1998 and aged in a refill Sherry Cask for 16 years. Cask number 1407 yielded 273 bottles at natural cask strength 52.08% alc
About the distillery
In the picturesque Western Highlands and next to the highest mountain in the British Isles sits the Ben Nevis distillery, one of the oldest licensed distilleries in Scotland. It is rumoured to have been founded in 1825 by 'Long John' McDonald born 1798 in Tolgulbin, who could reportedly trace his ancient family line back to the time of Robert the Bruce. Long John was a famous figure in Whisky folklore because he was one of the first illicit distillers to sell his own Whisky and he was apparently a giant of a man in height, strength and fitness. Queen Victoria even visited Long John's Ben Nevis distillery in 1848 where she was presented a special cask dedicated to her son, the Prince of Wales, future King Edward VII. Closed in 1986 and fortunately reopened in 1991 under the new ownership of Nikka with the quality of Whisky improving thereafter.
The distillery sources its water from Alt a Mhulin which runs from Ben Nevis past the distillery into the River Lochy.
The Cask
This single malt Highland Whisky was distilled on the 3rd of December 1998 and aged in a Refill Sherry Hogshead cask, number 1407. It has been bottled at natural cask strength and there has been no colourings added - this is non-chill filtered.
TASTING NOTES
The aroma of banana malt loaf with sweetness and maltiness. A lucious sweet taste with a tad more fresh fruitiness. Water brings out more fruit and the vanilla cake mix flavour.
INDEPENDENT REVIEWS AND TASTING NOTES
Ben Cops', of Ben's Whisky Blog, described the Ben Nevis as "uncompromising, intense, exciting, balanced, complex and old beyond it's years"
Jon, of Scotch and Sci-fi, concluded with "sit back, pour, explore, enjoy and relax. Fantastic experience".
Tiger White of the Edinburgh Whisky Blog tasted "vanilla, lemon peel, custard creams, cinder toffee, a gingery spice and fresh sawdust"
Tom who writes Toms Whisky Reviews got "Toffee coins and sweet sugary candy notes with oak and malt filled background"
Steve of the Somerset Whisky Blog had "Thick, instantly sweet and buttery, quite a wine like character...a great cask here"
Lady of the Glen Whisky can succesfully fulfill orders from all over the world at an extra charge of £20.00 for non-UK delivery