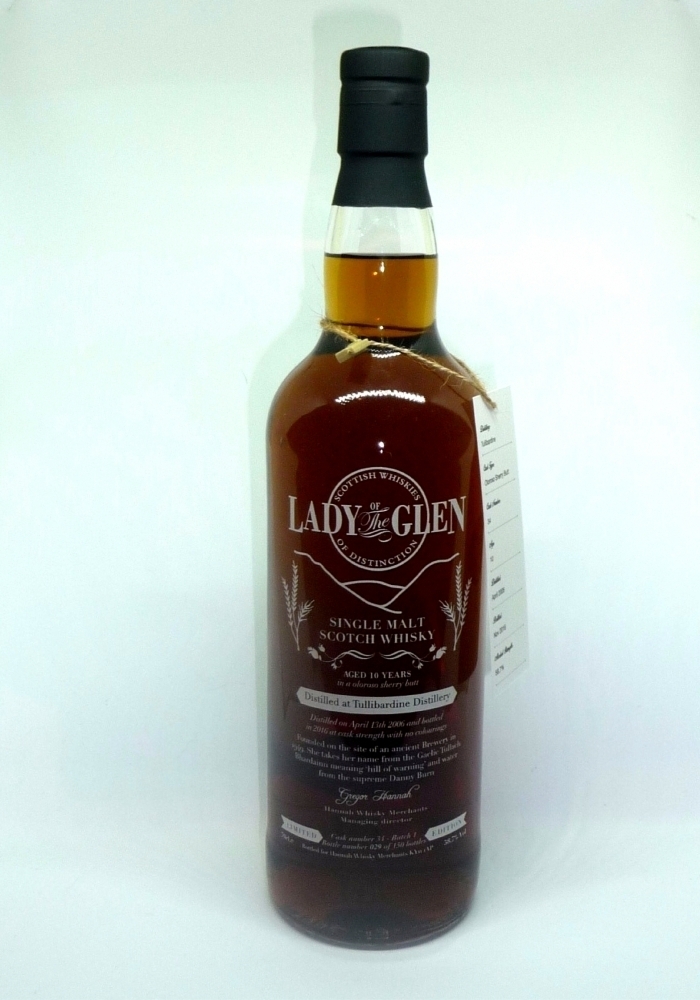 Sherry Butt 34 was distilled on the 14th April 2006 and bottled in October 2016.
The 10 year old Oloroso Sherry Butt produced a natural cask strength of 58.7% alcohol and elected to bottle just 200 bottles, non-chill filtered with no colourings.
Batch 2 will be a limited Edition 494 bottle release - each uniquely glass etched bottle has been numbered.
About the distillery
Located within the Highland Whisky region but sitting under Speyside in the Scottish midlands. The distillery is located in Auchterarder and enjoys a long history stretching as far back as 1488 where it was the site of an ancient brewery where King James IV bought ale on his way to Scone palace. The distillery proper was built in 1949 which makes it a relatively modern distillery. She takes her name from the Gaelic 'Tullach Bhardainn' meaning hill of warning and water from the supreme Danny Burn. The distillery currently lives outside the ownership of the big Whisky conglomerates, with its own cooperage, warehouse and bottling hall on site.
This special Butt was distilled during the distillery's reawakening following the 2003 acquisition. The distillery had been closed since 1995 until it was sold to an independent group of Whisky enthusiasts in 2003. Following the acquisition the distillery was brought under the assured management of John Black, a renowned figure in the Whisky industry with over 55 years of experience in the industry and who previously worked at Cardhu, Glenburgie, Miltonduff, Ardbeg, Glencadam, Balblair, Pultney, Auchentoshan, Tormore, Ardmore, Scapa and finally Tullibardine. John unfortunately passed away in 2013.
Tasting
A maple syrup coloured dram which has taken wonderfully well from the Sherry Butt.
All the notes of a fruity blackberry baked tarte including sweet Scottish summer strawberries, orange peel with notes of chestnut honey, cinnamon and the slightest gingery heat. A smooth lingering aftertaste with dark chocolate and more of that delightful honey.
Enjoy this one to mark an occasion or after a meal as a delightful desert dram
Whisky Corner review - "This is a whisky to enjoy whilst relaxing in a leather arm chair, with the paper, or a weighty tome...On the palate there is no doubt as to the origin of this whisky, the Oloroso influence is off the scale"
Complimentary delivery and delivery to anywhere outside the UK will cost an additional £20.00. Your bottle will also include a sample of another Lady of the Glen release.