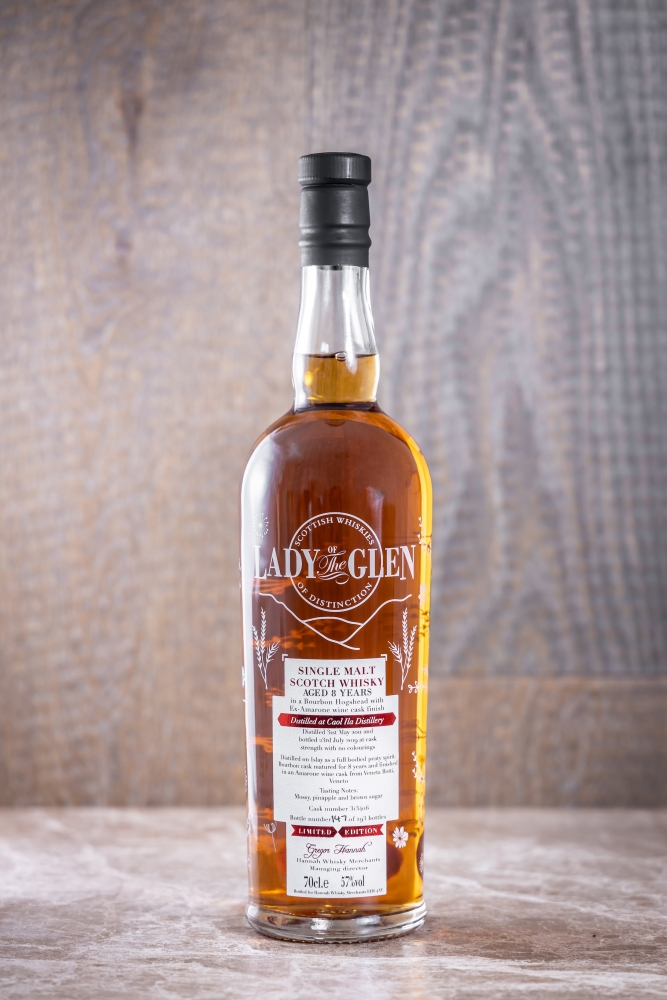 In 1846, Glasgow distillery owner Hector Henderson picked a little bay on the Sound of Islay for his distillery site. He named it for the sound itself, using the Gaelic Caol Ila, and it was across this sound the little puffer ships made their round trips to the mainland – slowly helping to establish the distillery as the biggest on Islay.
Distilled on Islay on the 31st of May 2011 as a full-bodied peaty spirit, this single malt was matured in bourbon cask #313406 for 8 years and finished in a hand-selected ex-Amarone wine cask from Veneta Botti, Veneto. Bottled on the 23rd of July 2019 at cask strength.
This cask yielded 293 bottles and is a rare Islay single malt whisky.
On the palate, experience mossy notes with hints of pineapple and brown sugar.
Enjoy a dram on us! With every bottle purchased, receive a complimentary 2cl sample, selected at random from our current stock.
REVIEW by Felipe Schrieberg on Forbes.com
Description: This Edinburgh independent bottler has been experimenting with kookier maturation lately. Here, this single cask Caol Ila has been finished in an Amarone wine cask finish. 
Nose: I'm going to enjoy this. Steak, fried mushrooms, and mangoes. The complex sweetness and the smoke is thick and promising. 
Taste: Many disparate elements join harmoniously after introducing themselves. Caol Ila's gentle smoke is not overpowered by the wine element and vice versa, and is brought together by lovely saltiness that is also overlaid with papaya and maraschino cherries.
Overall: A tasteful fruity and smoky slap to the face. This is exactly the kind of whisky I love best. 
Score: 9/10