Lady of the Glen Final outrun of the Year QTR 4
Early October marks the release of our final outrun of 2021. It is the first time we have managed to release 4 outruns on time in a single year!
This outrun was bottled over August, September and October 2021 exclusively at our site in Dalgety Bay. All the releases are non-Chill filtered and bottled by hand at cask strength.
The four of us bottled 13 casks in this outrun and we selected a broad range of casks from our portfolio as we like to do each outrun. Some releases were bottled exclusively for the UK such as the Caol ila and Dufftown Octaves. The broad range of casks included a variety of ex-Port finishes, ex- Amarone wine (a Lady of the Glen favourite) and ex-Madeira wine, while some releases were allowed to flourish in their original Hogshead or barrel and felt that now was the right time to bottle. We have included old vintages such as the Cambus, there are some interesting peated drams in there and a spread of different vintages too which is something we look to do each outrun although our main priority is flavour and diversity of quality of flavours.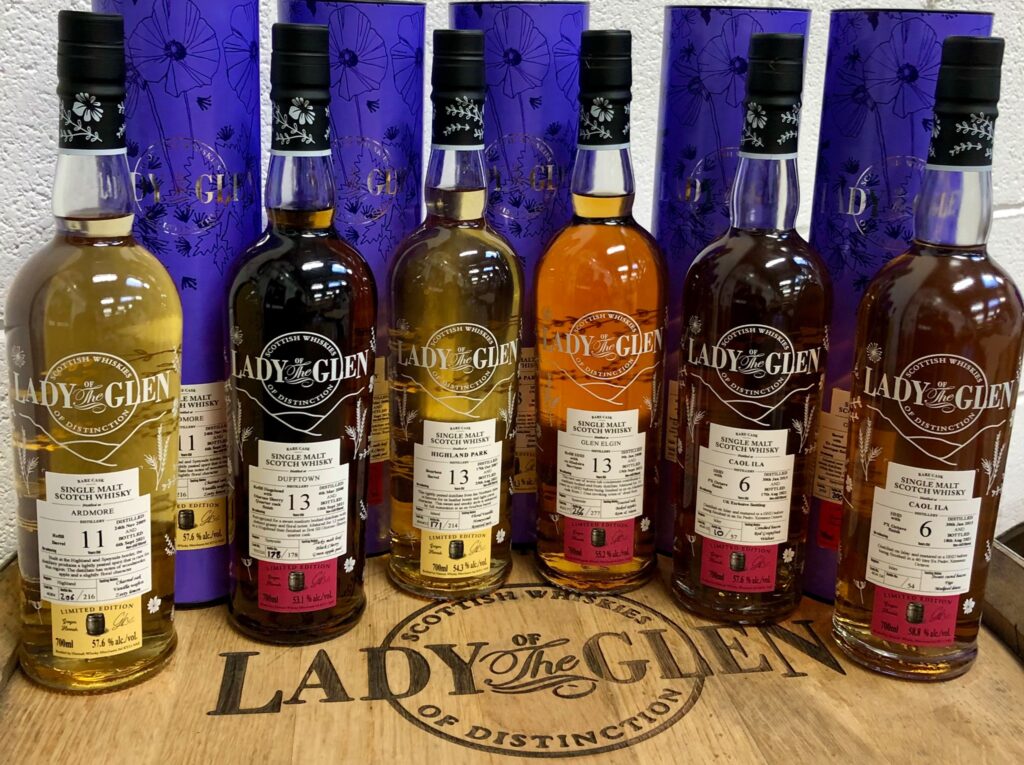 Ardmore 2009 11yo #4084 57.6% Refill Barrel
Nose
almost costal with a mineral rich, oak and smoke quality. A touch of orange bitters and fresh ginger give a spicy impression but balanced with sweetness from vanilla and honeycomb.
Palate
The costal notes are now more like salted almonds and peanuts with the smoke and peat in the background. This is replaced with vanilla, tropical fruit and peppered spice qualities.
Finish
Long and now more citrus led with notes of zesty lemon, dried apricots and orange barley sugar sweets. The smoke is consistently present but fades to leave a barbequed lime quality.
Cambus 1988 32yo #59269 44.6% Refill Hogshead
Nose
A complex mixture of creamy vanilla, chocolate powder, red fruits and paraffin wax develop to a marmalade on toast and freshly baked pastry character. All of this contained within a fruit orchard.
Palate
Smooth and subtle entry with more body and mouthfeel than expected with grain whisky. Juicy raisins and sultanas in vanilla ice cream balanced with notes of honied spice and desiccated coconut.
Finish
Fairly short but very moreish and refreshing. Now more spice led with hints of cinnamon & nutmeg dusted custard, dried banana and peppered oatcakes.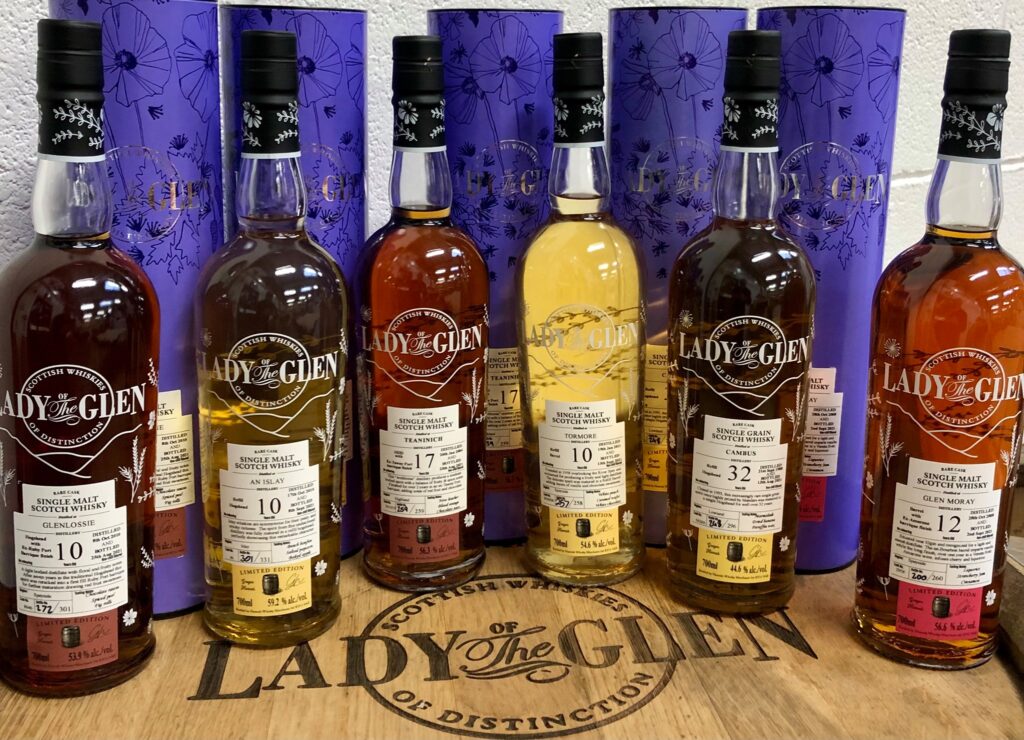 Caol Ila 2015 6yo #40404 58.8% PX Octave Finish
Caol Ila 2015 6yo (UK) #40402 57.6% PX Octave Finish
Nose
Opens with a sweet and savoury character reminiscent of candied bacon and frazzles crisps. Time in the glass unlocks a more floral style with an intriguing mix of cut grass and beach bonfire.
Palate
A sophisticated citrus style leads the way with notes of red grapefruit, candied orange and dark rum soaked sultanas. Sweet peat is a constant as well as salted crackers and peppery oak.
Finish
The sweetness fades leaving lingering smoke, spice and ashy peat. Now more herbal notes emerge with fennel, star anise and caramelised nuts all wrapped in a creamy smoke blanket.
Dufftown 2008 13yo #705326 53.1% Oloroso Sherry Quarter Cask
Dufftown 2008 13yo (UK) #705326b 54.7% Ex Islay PX Octave
Glenlossie 2010 10yo #8646 53.9% Ex-Ruby Port Barrique Finish
Nose
Very comforting and warming with notes of chocolate raisins, praline and sherry trifle. Fruitiness emerges in the form of juicy oranges, apple turnovers and a touch of chamomile.
Palate
Very rounded and the comforting feelings continue in the mouth. Slightly oily texture carrying notes of toffee, caramel and gingersnaps, all held together by a wrapping of spiced mixed peel.
Finish
The citrus character returns and evolves to be more floral than before. Notes of vanilla, lychee and orange curd eventually fade to leave a sweet spice and an oak char impression.
Glen Elgin 13yo 2008 #800177 55.2% Ex-Madeira Barrique Finish
Glen Moray 2008 12yo #2958 56.6% Ex-Amarone Barrique Finish
Highland Park 2007 13yo #800453 54.3% Bourbon Barrel
An Islay 2010 10yo #46 59.2% Refill Hogshead
Nose
Very costal and full of classic maritime character. Notes of sea spray, salted popcorn and peat embers initially before moving to a fruitier citrus style with orange zest, lemon pepper and barbequed lime.
Palate
The high ABV really brings the smoke and peat to the fore before massive waves of mixed peel, fruit & nut chocolate and baked apples take over. This is followed by drier style spice and toasted oak character.
Finish
Baked pear and roasted nuts before the fruitiness fades to leave behind a slightly drying orange bitters and fragrant wood smoke character.
Teaninich 2004 17yo #301013 56.3% Ex-Tawny Port Barrique Finish
Nose
Very sweet and nutty on the initial nose with notes of sugared almonds, lemon lozenges and a touch of chocolate orange. Warming spice notes develop with ginger, nutmeg and flaky pastry.
Palate
A well-structured entry with the delivery of sweet and spice notes perfectly balanced. A toasted baguette with Nutella spread character moves along to reveal blueberry and blackberry crumble.
Finish
A chocolate mint note emerges followed by butter toffee, vanilla and floral honey notes. This sweetness fades leaving a drier herbal character of tobacco, fennel and roasted peanuts.
Tormore 2011 10yo #80006 54.6% Refill Barrel
As the final outrun of the year this marks the end of the year for us too, so I thought it was a good time to share my thanks to all the customers, distributors and friends that have supported us this year and in the past, thank you!
I would also like to personally thank Paul, our brand ambassador, for his work this year in growing the brand and being a good egg! I look forward to continuing to lose many of my golf balls with you Paul. The warehouse team, Alex and Gav, have brought me many good laughs and I really appreciate the work that they have put in. Having worked on my own for most of the 9 years of Lady of the Glen it's been a cultural change working with other people and what started as 'lifestyle business' as one Judge at the Scottish Edge labelled it, has grown into a wee craft business… Who knows what the next year will bring because it feels like anything can happen now after Brexit and Covid but as a team we will continue to do our best to provide our customers exceptional spirit that is bottled independently by us.
Best,
Gregor