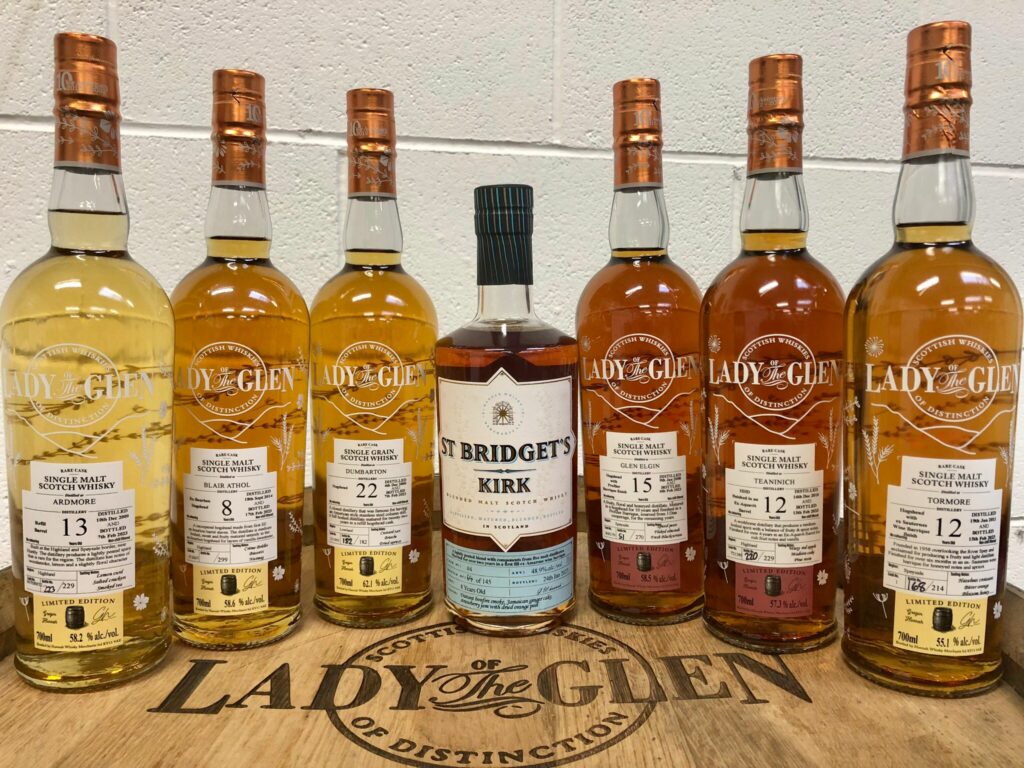 On the back of snapping up the Icons of Scotland Independent bottler of the year for the second year in a row and winning the National Whisky Awards Independent Bottler of the Year it is now back to the business of releasing tasty drams!
QTR 1 2023 is a slightly smaller outrun this year but no less interesting. We have decided to focus on slightly more obscure cask styles and present a broad range of spirit from different vintages. In this outrun we cover Speyside and Highland but we still have peat, full on rich fruity character and big vanilla Bourbon style treats!
Ardmore 13yo 2009, refill barrel
A wonderfully fresh and sweet start to the lineup. This lightly peated highlander has spent its full maturation in a fairly active refill bourbon barrel offering lemon sweetness and a late smokiness that lingers beautifully.
Blair Athol 8yo 2014, re-coopered bourbon hogshead
Although young, this highland classic malt has spent it's full time in a very active first fill bourbon hogshead re-coopered from a standard bourbon barrel. This rich, sweet and spicy malt has a lot in common with a high-end bourbon whisky in my opinion and bottled in exactly the right time to preserve the distillery character.
Dumbarton 22yo 2000, refill hogshead
Distilled at the long time closed Dumbarton grain distillery, this great and unusual example of a rich and full bodied single grain whisky style is now very rare. The spicy and sweet flavours are enhanced by the surprisingly high natural ABV of 62.1% for such an old spirit.
Glen Elgin 15yo 2008, Profiler (STR) Barrique finish
One of our favourite malts to work with due to it's natural fruitiness and waxiness, this whisky has spent almost 5 years finish in a profiler barrique. Profiler is the name of a type of ex wine cask produced by the J.Dias cooperage in Portugal. The process of producing these casks is unique to J.Dias and is similar to STR cask but the toasting and re-charring is more gentle. This retains more of the residual wine flavours opposed to the intense oak from traditional STR casks.
Teaninich 12yo 2010, Aquavit barrel finish
A workhorse distillery that produces a medium bodied spirit with a balance of fruity & spice notes. Finished for over 4 years in an Ex-Aquavit Barrel for rich fruit notes and vanilla.
Tormore 11yo 2011, sauternes barrique finish
Another great example of this light and gentle Speysider this time nurtured to perfection in an ex-sauternes barrique. This secondary cask has offered a gentle dryness and spice notes to the fruitiness of the original spirit character. These combine very well for a well balanced dram.
We also have the next batch of our ever popular St Bridget's Kirk available. 
This time we have gone for a younger blend of malts at 8 years old from Auchroisk, Blair Athol, Benrinnes, Inchgower and Caol Ila distilleries. This is a smaller batch than before of only 145 bottles where we had blended the whiskies together over 2 years ago in an ex-Amarone wine barrique. Expect light smoke and deep dried fruit notes provided by the 2 years in the Amarone cask.