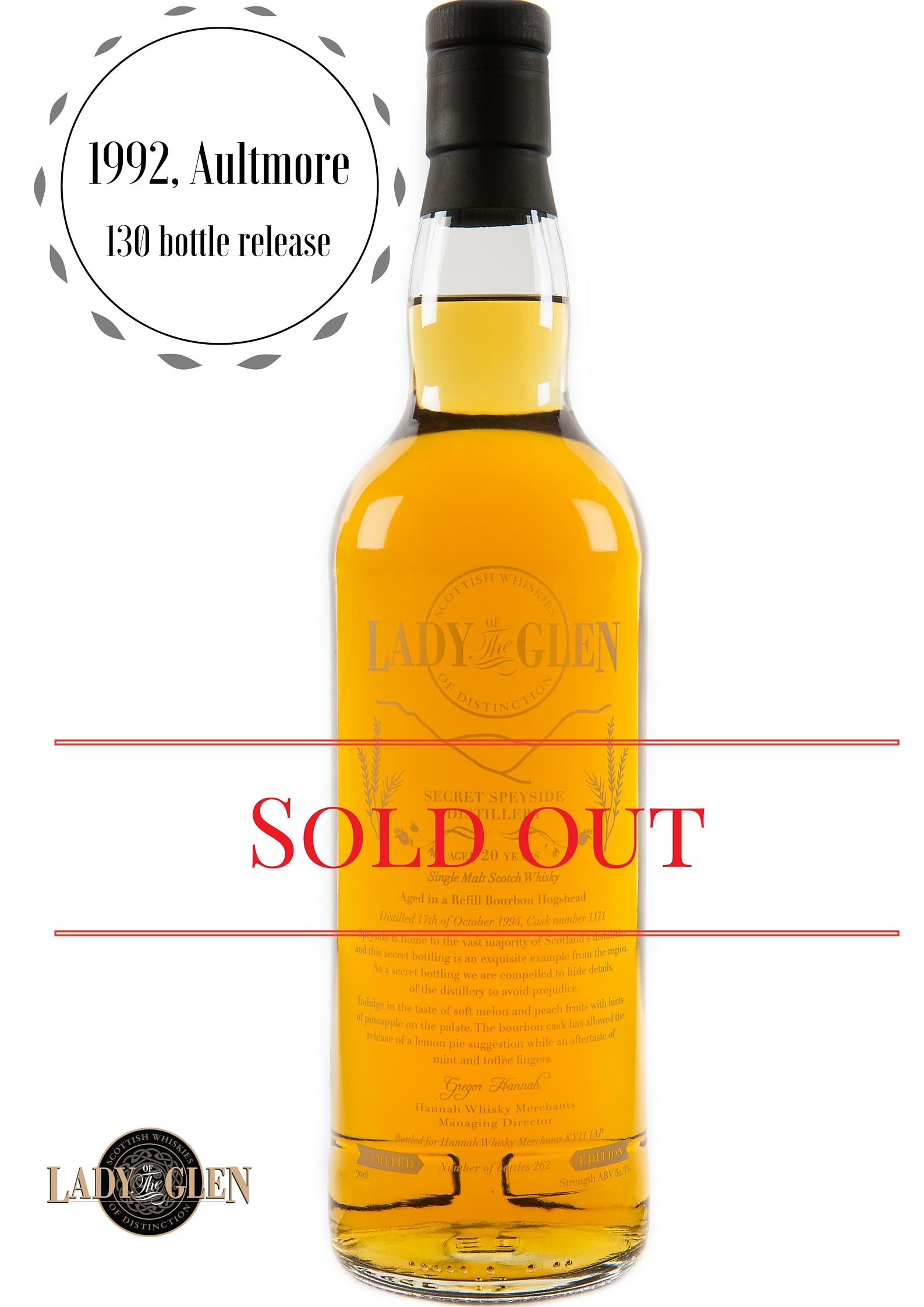 Following a short release the Lady of the Glen Aultmore has now sold out. Please stay in contact as we will reveal where you can possibly collect a bottle from a distributor.
Details of the release
Bourbon barrel, number 3499, was distilled on the 14th May 1992 and bottled in May 2016. Sold out July 2016
The 23 year old cask produced natural cask strength of 51.3% alc and we elected to bottle just 130 bottles, non –chill filtered with no colourings.
A Limited Edition 130 bottle release – each uniquely glass etched bottle has been numbered
About the distillery
The obscure distillery of Aultmore takes her name from the Gaelic 'big burn' in reference to the burn that runs near the distillery. Sitting above Keith, she lies surrounded by dense fog in the wonderfully natural and idyllic terrain of Northern Speyside.
Aultmore was constructed over a century ago in 1895 by Benrinnes-owner Alexander Edward although the first spirit was distilled in 1897, the same year Bram Stoker's Dracula was published and the year of Queen Victoria's Diamond Jubilee!
Unfortunately Aultmore failed to escape the ruin of the infamous Pattison Crisis which brought the industry to its knees and resulted in the closure of many of Scotland's distilleries. Closed until 1903 the distillery was forced into silence again when Britain halted distilling in the War years of 1914 to 1918, as it similarly did from 1795 to 1797 which impacted Tobermory, in order to avoid using grain that would be better used in the war effort. The distillery resumed activity under new ownership in 1923.
Under her current owners Aultmore has not enjoyed the notoriety she deserves as she has mainly been used in blends, with that in mind a rare single cask release of Aultmore carries a prestigious weight of intrigue.