The archive
Welcome to our whisky archive. The whiskies you will find here have sadly sold out but they remain here as a memento of their unique taste.
Page 21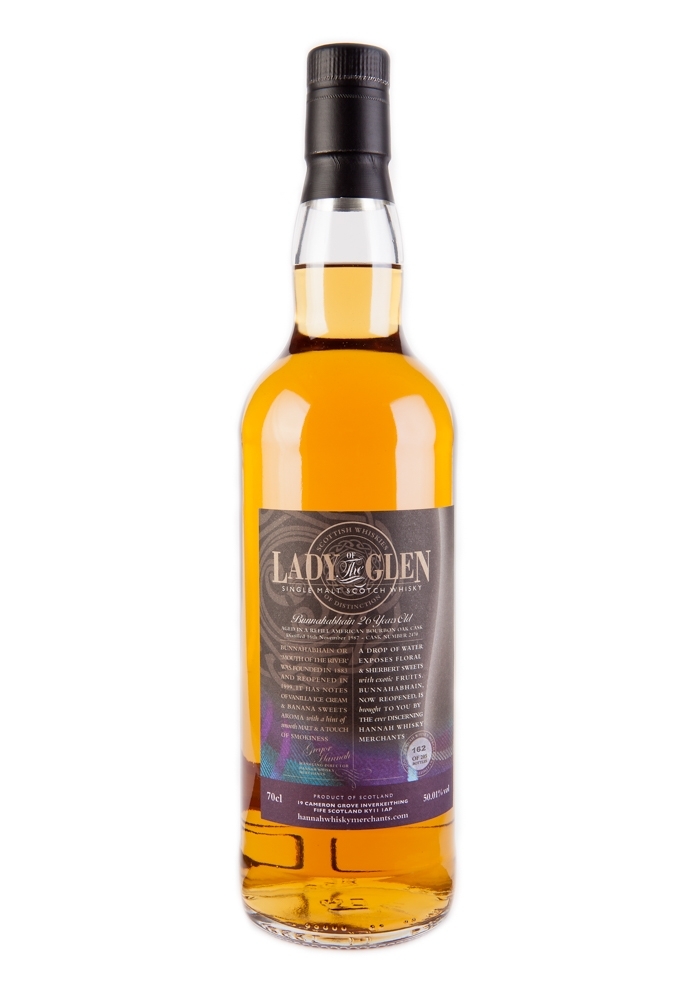 Alcohol by Volume

- 50.01% vol

Size of Bottle

- 70cl

Yield

- 205
Vanilla ice cream and banana sweets on the nose. Velvet smooth and luscious on the mouth with maltiness and the slight hint of smoke at the very end on the palate. This single cask from the 'Mouth of the river' distillery is a complex Whisky. Distilled November 1987 and aged in single refill Bourbon cask for 26 years. Cask number 2470 yielded 205 bottles at natural cask strength 50.01%alc
About the distillery
Bunnahabhain translates from the Gaelic 'The Mouth of the River' and it was founded in 1883 on the North of Islay. Built during the 19th Century Whisky boom, there are only around twenty other distilleries in Scotland created during this time which are still active now. Bunnanhabhain is fortunate to be amongst these century old distilleries as it was mothballed it 1999. It did reopen eventually and now actively sells it Whisky.
About the cask
Distilled on the 16th November 1987 and aged in a single refill American Bourbon cask, number 2470. It has been bottled at cask strength and there has been no colourings added - this is non-chill filtered.
TASTING NOTES
Enjoy the Vanilla ice cream and banana sweets on the nose. Velvet smooth and luscious on the mouth with maltiness and the slight hint of smoke at the very end on the palate. With a drop of water more sherbet sweets on the nose and more floral notes while on the palate there are more exotic fruits and melon.
Your uniquely numbered bottle is presented in the Lady of the Glen bespoke gift bag with a descriptive tasting tag and delivery is included in the price.
Independent Reviews with tasting notes
Jonathon Webb of Scotch and Sci Fi described this Whisky as"Intriguing and complex, not for the beginner...a truly unique Whisky"
Adam Warburton of Whisky Diary stated that "This has to be the best Bunnahabhain that I have tasted to date!"
Ben Cops summarised it as having "Massive intensity, loads of ripe juicy fruits and citrus"
Tom of Tom's Whisky Reviews tasted "full sherry soaked sweetness and with hints of of peated background popping up"
Steve Prentice of the Somerset Whisky blog suggested "it's got that trademark honeyness"
The Whisky Chronicle summarised the palate as "more fruity with an amazing sweet shop sweetness"
Tiger White of the Edinburgh Blog declared that it was "a great example of a Bunnahabhain - a layered complex nose which leads to an explosive palate"
The Whisky corner duo offerred varied notes on this dram from"so complex, so much flavour packed into one mouthful"
Stefan of the Whisky Journal decribed this dram positivelyGerman here
Postage is included in the price and you will recieve your order within three to four days of making your order.
Lady of the Glen Whisky can succesfully fulfill orders from all over the world at an extra charge of £20.00 for non-UK delivery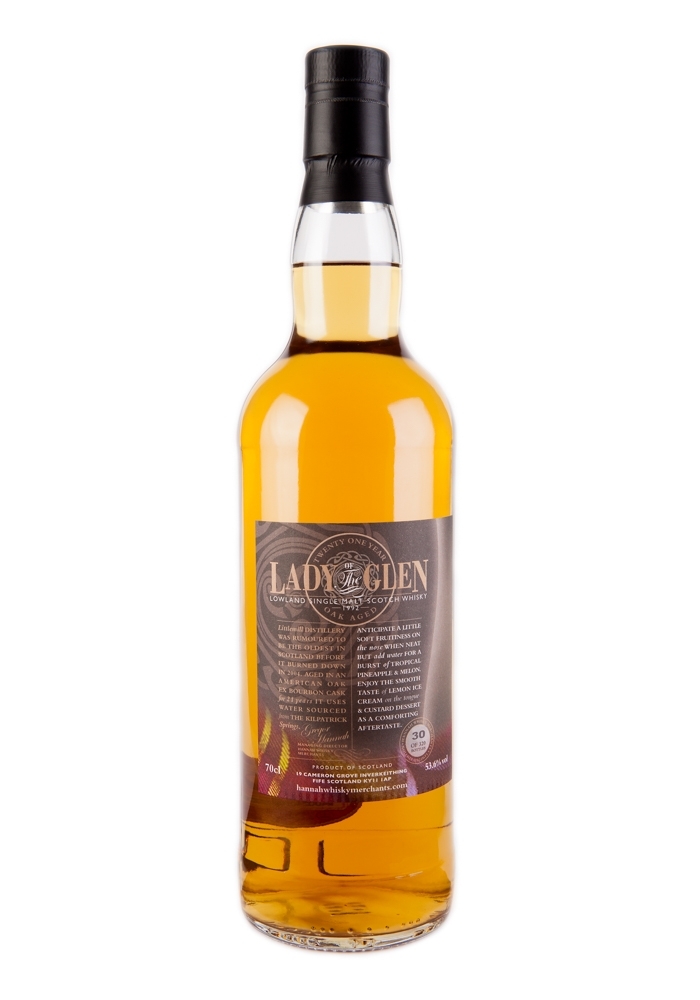 Alcohol by Volume

- 53.6% ABV

Yield

- 309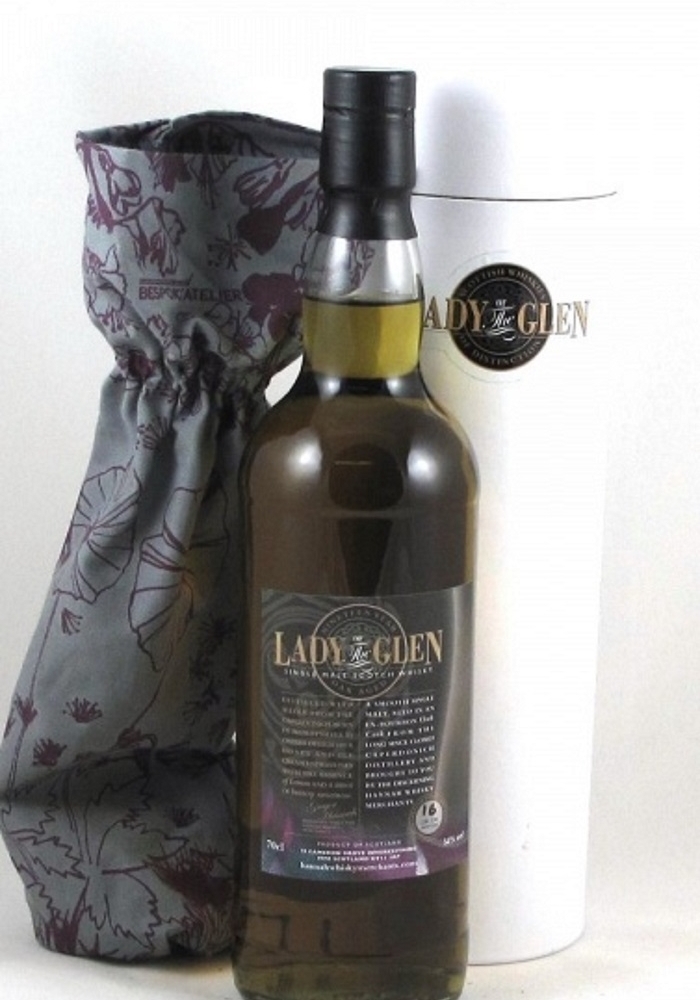 Alcohol by Volume

- 54.0% ABV

Size of Bottle

- 70cl

Yield

- 120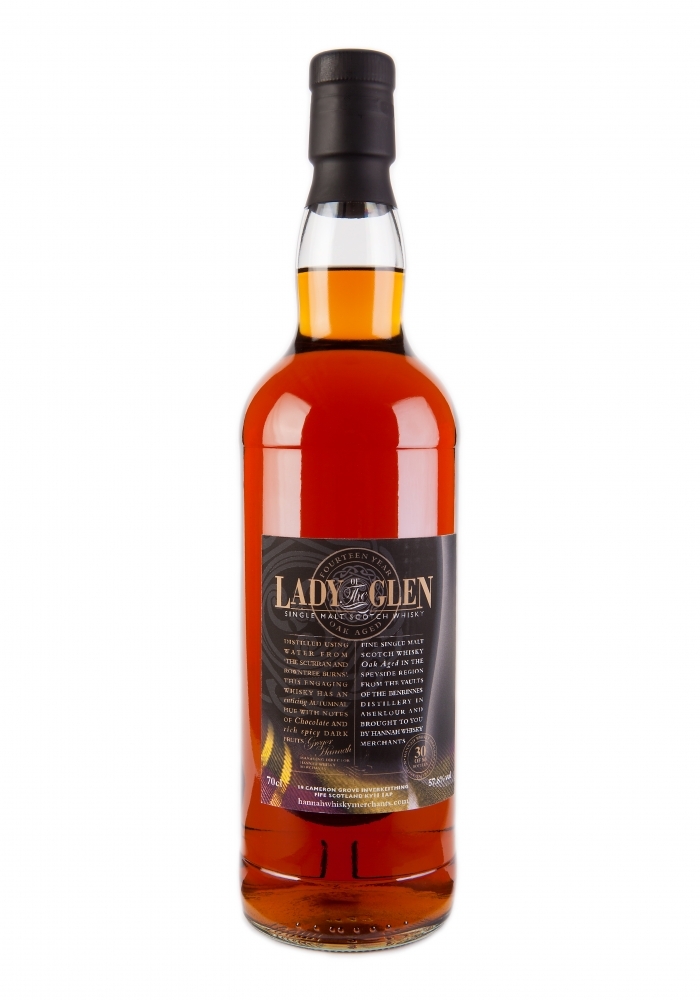 Alcohol by Volume

- 57.8% ABV

Yield

- 86
Our first Speyside malt whisky. The smells of over ripe red apples, chocolate and spicy winter fruits this dram certainly did not disappoint on the nose. Mouth coating and long lasting this sherried dram had undertones of beeswax and hazelnuts throughout. With the addition of water you would bring out flavours of dried figs and honey. With a big and spicy finish this whisky did not disappoint.
The Benrinnes Distillery was founded in in 1835 and is located in Banffshire. It was completely rebuilt in 1955/1956 due to a flood and it is one of the few distilleries in Scotland that still uses so-called 'worm tubs' to cool the vapours and condensed spirit from the running stills. This feature was once common, but not anymore. The water sources are the Scurran and Rowantree Burns.
This Benrinnes was from a single Sherry cask and sold out January 2014.
Reviews
Miss Whisky Blog "really fruity with apple, peach, fig and milke Chocolate notes"
Edinburgh Whisky Blog "this dram has balls! Quite spicy with cinnamon and white pepper then a meaty note before a rich sweetness kicks in"
Join our newsletter
Be the first to know about our latest releases. You will receive regular updates (not too many, we promise!) via email with our latest news, exciting new product launches and inspired gift ideas.