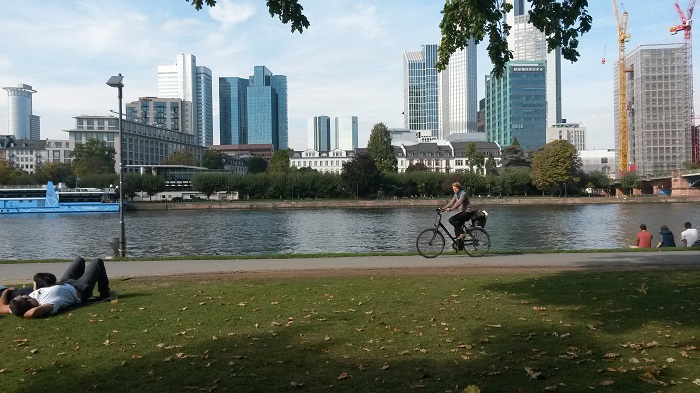 For the last weekend in September my wife and I went to Germany on the invite of Celtic Events to attend the Rüsselsheim Whisky festival. It was a great learning opportunity to see the German Whisky market first hand and it was a chance to finally meet Andy McNeill, the man behind Celtic Events, who first distributed Lady of the Glen in a foreign market.
Travelling by Lufthansa you come to learn how much better German airlines are to our equivalent in the UK. Better seats, better leg room, complimentary sandwiches with teas and coffee, enough said really.
We arrived in Frankfurt which is the city closest to Rüsselsheim at night. We were straight to the hotel with the help of Andy and his assistant Roland who picked us up. Andy was as charismatic as expected and it was difficult to get anywhere because Andy was stopped by random whisky enthusiasts who recognised him in the airport and in the hotel and there followed a brief conversation in which the enthusiast would engage Andy in a Whisky orientated topic (I assume it was Whisky related but my German is terrible, I did French at school and had spent the last three months attempting to learn German from a 'Learning German for Dummies' CD, I was able to say 'hello', 'goodbye', 'yes', 'no' 'what I wanted' and 'how are you' and literally nothing else).
The next morning we were straight to the festival, Whiskymesse, which was being held in an old converted fort now a museum. The Whiskymesse itself was held in a long underground beerhall and I guess there were over 15 different whisky orientated stalls. It was a very refreshing event as I believe nearly all the businesses there were independent to some extent and there was a tremendous variety of Whisky from different independent bottlers and some larger brands of whisky was also being sold independently.
Contrary to Whisky events I have been to in the past there is an entry fee for the event but then the customer will pay for every dram they wish to sample and this can range from 3 EURO upward and is usually served at 2cl. I felt the German Whisky taster was a lot more traditional in their tasting, I was told this was perhaps because of their proximity to good wine regions and this was another reason why Whisky was so popular in Germany now. The way they would savour each dram was something I found very interesting. The popularity of Whisky in Germany should not be underestimated there are three Whisky festivals in and around that particular region of Germany, the next being held in Aschaffenburg. Typically there is at least one Whisky event every month somewhere in Germany not necessarily including the more mainstream festivals in the larger cities. All the stall owners were very welcoming to my wife and it was an incredibly friendly uncompetitive atmosphere.
While it was great to see the other stalls, we were mainly there to publicise Lady of the Glen and we were fortunate to have access to our previous releases of Invergordon, Benrinnes, Caperdonich and Littlemill which are notoriously difficult to find now in the UK (I couldn't even get a Caperdonich for a photo shoot). I believe the most popular was the Littlemill, closely followed by Invergordon. One less obvious thing I learned about the German market was that German's want something their neighbour doesn't have or has not tried. It is the unique finishes, the rare distilleries or the limited editions that fill up the Germany Whisky connoisseur's dreams.
Visiting Germany taught me a lot about myself and Lady of the Glen too. The first lesson was how embarrassing it felt that I did not know the host country's language; from this point forward I will be actively pursuing German lessons. The average German's language skills were incredible, taxi drivers and everywhere we went people knew enough English that made my German irrelevant.
After the weekend in Whiskymesse my wife and I were to spend our last day exploring Frankfurt and delving into the German culture. However, when we arrived in Frankfurt we learned that all the museums are closed on Monday so we ended up enjoying the sun next to the river drinking German beer all afternoon from a converted boathouse, it was great!
The picture above was one I took of the view from boathouse.
Thank you Germany