Whisky, Whisky, gin, vodka and even more Whisky. Judging by my camera photos taken at the event, that is what I sampled and savoured at this year's Whisky Stramash.
It was a gorgeous day in Edinburgh for the Stramash, the only disappointment was that when my friend and I arrived at Surgeons at 11.50 for the event beginning at 12 the queue was epic! For that reason we went to the nearby Pear Tree beer garden to patiently wait for the queue to cool down in the hot sun.
After 45 minutes we breezed into the Stramash and it was busy. The courtyard was filled with Whisky fans sunning themselves and enjoying a Whisky and or beer combination. I had no idea where to start as the Stramash was spread across various rooms within Surgeons Hall, so it was the job of a Stramash guide to literally escort me to the first room and then explain where the other Whisky rooms where. She was great!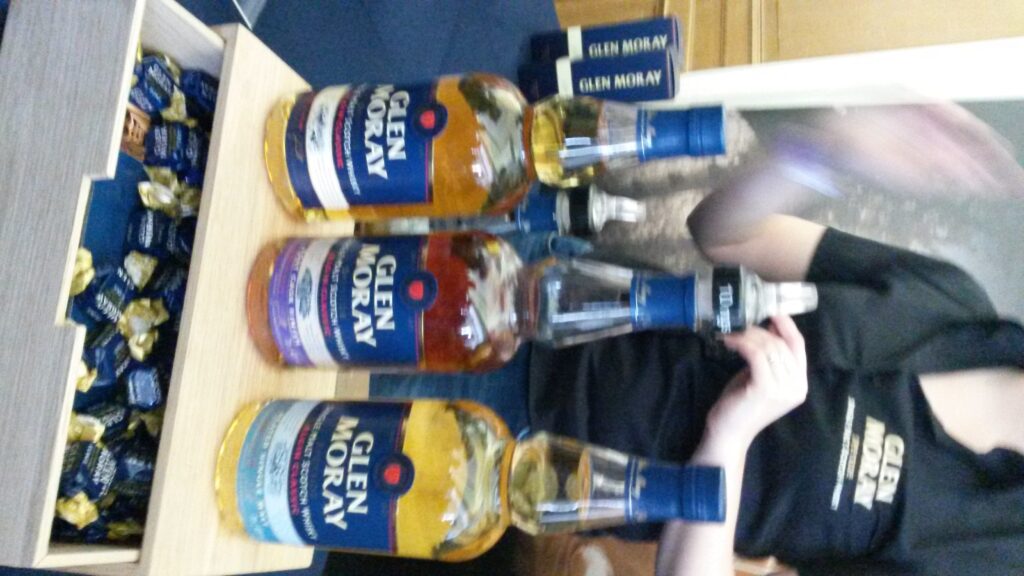 Toffee and Glen Moray – I forget to try a toffee which leaves a smouldering level of frustration as I love toffee
Within the first room there were some Whisky stalls, a gin stall and a vodka stall. However, what was most striking was the chair where people were getting their head shaved – blades and Whisky usually ring alarm bells within me but I'm sure the barber was sober at least for the first couple of heads at least. The first Whisky I tried was a Glen Moray – The Port Cask Finish (it's the middle one in the pic), really delicious stuff; a lovely spice and fruity Whisky with cinnamon.
I next tried the Glen Moray Chardonnay cask and this was my least favourite of the day but then I'm not a big fan of Chardonnay wine. However, if you like Chardonnay, you will likely enjoy it I'm sure.
The busiest stall was the definitely to the left of Glen Moray, Old Malt Cask who had a wonderful plethora of rare Whisky on offer. Among others I tried the Coal ila 18 year old; really nice, with that wonderful Ocean sea flavour profile.
After the first few Whiskies I felt it was good chance to try a couple different things Pickerings Gin (Okay) and Arbikie vodka (delightful and can be enjoyed neat in my opinion).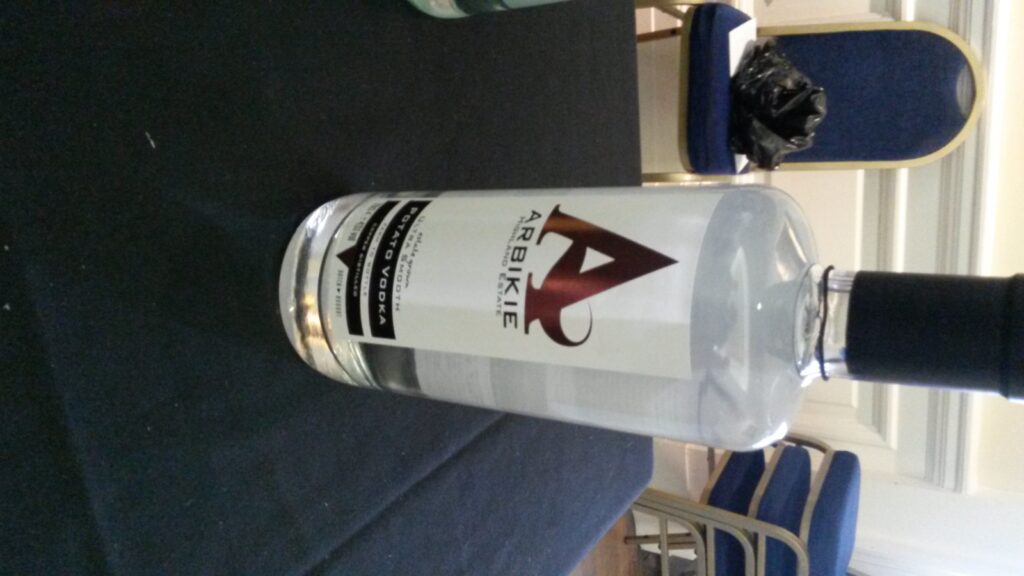 Arbikie Vodka, not your normal vodka!
My friend and I then attended a Whisky lecture/chat with the gents from the Edinburgh Whisky Blog. This little presentation took place in the library which is a gorgeous room, a Dr Jekyll type room, and it afforded a great wee break from standing as the seats were divine – cushion soft. The presentation was a contest between Chris and Jason pitching their favourite Whisky against the other. The winner was Chris, sorry Jason – you should have pitched first and poured first. Admittedly I failed to write down the competing Whiskies, it's a poor excuse from what memory informs me were good whiskies.
The main hall was next and there was a wonderful range of Whisky from Lost Distilleries (allegedly selling for the first time within the UK… I tried a few of them and they were good, very peaty as would be expected. There was also a man there relentlessly bartering with the poor Whisky provider), Deanston, Glenrothes and Fraisers Blend Scotch Liqueur (a very very Sweet strawberry liqueur and pictured to the right).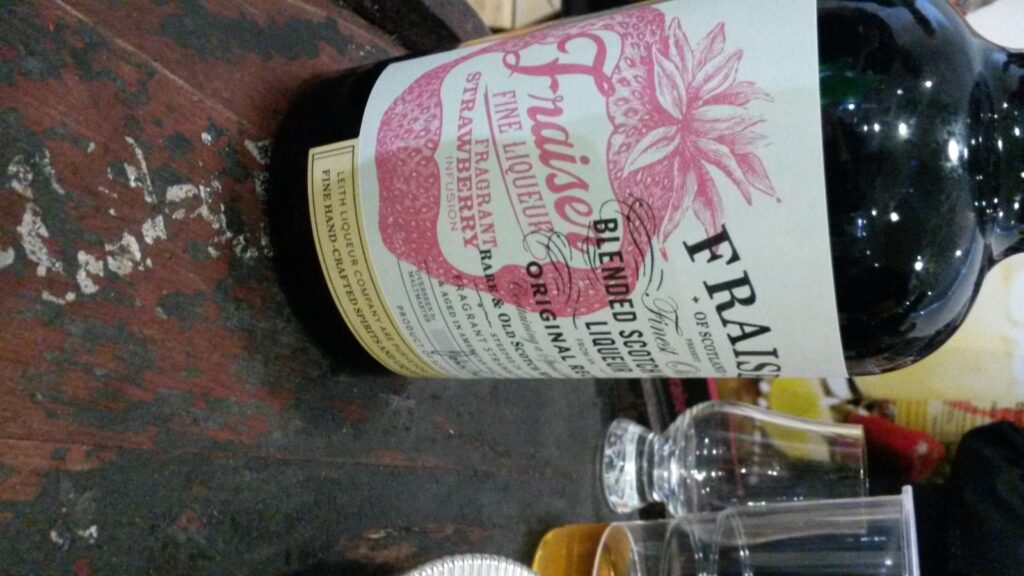 Fraisers Blend Scotch Liqueur, a wonderful wee drink but you can't have too much. Served with lime and Strawberry, yum!
The best whisky at the Stramash, for me, was a Sherry cask Deanston which is only available at the distillery and you bottle it yourself straight from the cask. It was genuine dynamite! 59.2%, 10 year old. Try it and buy it if you can!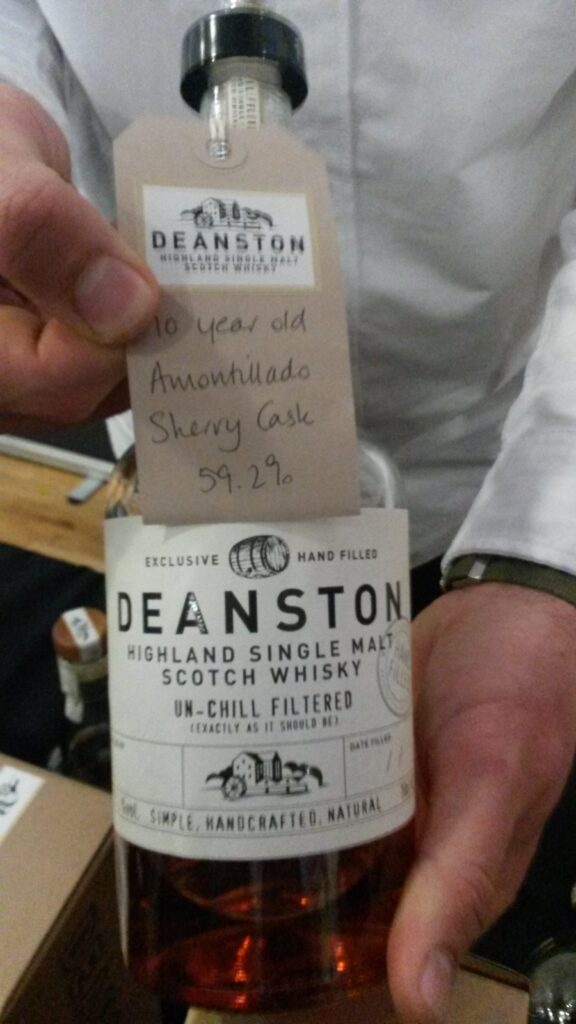 My favourite of the day, Deanston…totally didn't expect it to be so good!
It was a great event and hopefully I will be there again next year to enjoy more Whisky.