Whisky Lounge 2015 At Queen Street Gardens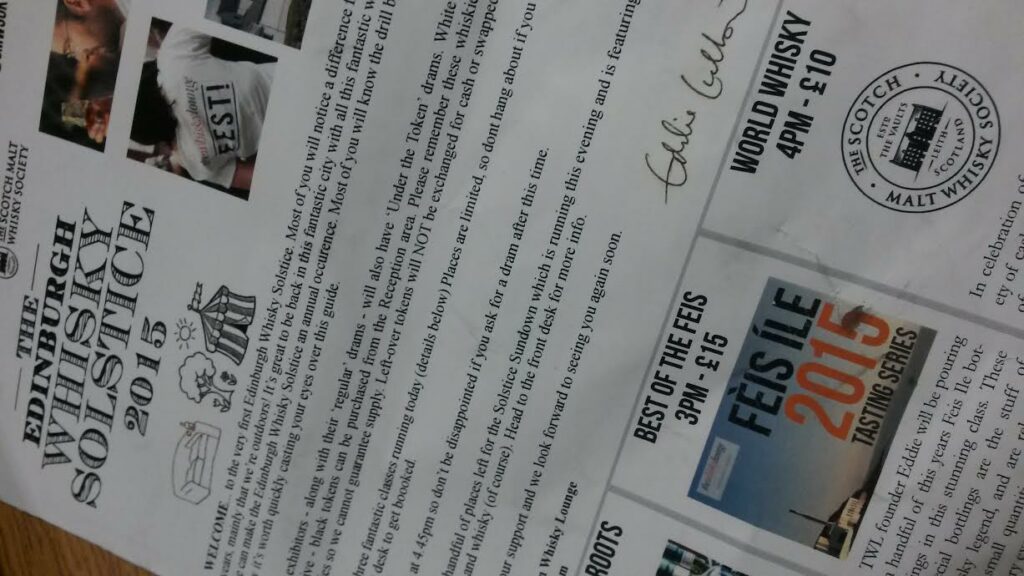 This year Whisky Lounge was held in the beautiful Queen Street Gardens and thankfully the weather held out and it was a gorgeous day…owed much to everyone gathered not acknowledging or attempting to jinx the weather by mentioning it. The venue was idyllically spread next to the pond within the gardens with three tents hosting food, a bar and a main tent which held the great many Whisky stalls. There were around 18 stalls this year!!
This was a year of firsts as not only was it my first outdoor Whisky festival it was also the first time I took my wife to Whisky Lounge, a birthday treat.
With our Glencarin glasses to hand we meandered through the plethora of stalls within the main tent attempting to find a wee space to squeeze in and get a sample – the first sample was a light grain Whisky from the R&D Distillers/Tweeddale stall. It was nice beginning with a light 16 year old grain and from there we moved to enjoy the Springbank stall which had some nice Whisky, they had a memorable Sherry finish, Springbank's great for getting a truly authentic Whisky. Then to Berry Bros where my wife had the Aultmore and I enjoyed the Aberlour – Berry Bros had a wonderfully varied mix of bottles from different distilleries which was great, the only frustration being the crowds and the obligatory feeling of having to allow others 'in' to try.
A stall we lingered at for a while was the Compass Box stall. It was the first time my wife had tried anything from Compass Box and she was a big fan, the vanilla treat Hedonism being the favourite. We also shared the Asyla and my favourite, The Spice Tree.
Our black tokens, purchased to get those under the table special Whiskies, were spent on Glenmorangie Signet and a Johnnie Walker limited Edition – honestly, they were not overwhelming but it was great to try them and at the price of the black tokens made it well, well worth it!
The Scotch Malt Whisky Society had a great ice-cream theme and we both tried the Whisky infused ice-creams to great delight. The ginger one, was immense (I love ginger ice-cream) and the chocolate one was great too – although you had to be quick eating them as the Whisky melts a bit quicker than normal – that was no problem for me though…The ice-creams had there matching Whisky in a separate tent and I will hopefully get around to trying them some time soon.
Among the quirkier stalls I tried some Indian Whisky, which was about 60% alc, from Amrut – the nose on these whiskies was really nice although on the palate they were a bit hot – defiantly a wee bit water required. There was also El Dorado rum which had three rums to select from, from the first and second there was a strong chewy taste of molasses which I enjoy in rum, so for me they were good.
My favourite dram of the day, was the Glen Goyne that was the Scotch Single Malt in the SMWS Whisky challenge – although this may be because I got it correct 😉 Although there was a really nice Scapa!
It was a thoroughly enjoyable experience at the Whisky Lounge again this year; with a great selection of good stalls and lots of quirky fun additions like the ice-cream, Whisky school and grilled food. We are both looking forward to next year!