Whisky Bars Bon Accord And The Pot Still
A couple of weeks ago I met up with my web designer, Scott Fotheringham of Pixelbend studios, for a catch up in Glasgow. It was a typical dreich day but during the course of the discussion in Starbucks I discovered that Scott had not actually sampled any Lady of the Glen, so after our coffee we ventured to Bon Accord on North Street because I knew they had a couple bottles of my Whisky, Littlemill to be specific.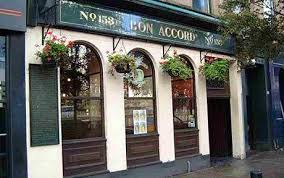 picture from Glasgow Pub Guide The Telegraph 25th June 2010
Bon Accord is a great traditional pub with a tremendous gantry that includes unique rarities from distilleries and Independent bottlers. It's the ideal place to go to find a Whisky you won't necessarily find anywhere else and it's been around for around 40 years! They recently won a Best Bar None Award too. When I asked for the Littlemill 21 year old from Lady of the Glen the barman set about the gantry to find it and after a couple seconds he did and poured a 35cl dram. With eager haste Scott and I removed the dram to our table to indulge in a quick tasting; it was a joy, a delicate light bodied Whisky with lovely subtle fruits, melon and sweetness. Littlemill is a great way to introduce someone new to Whisky to Whisky; it's not an intimidating or heavy spirit at all with powerful flavours. I was glad to see he was enthused by the tasting and I would like to think the next time he goes out he might get a dram of Whisky.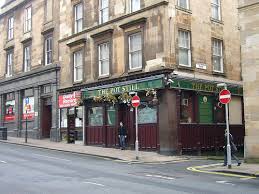 Shortly after my stint with Scott I was then off to see my friend Sean at the The Pot Still, another great Whisky bar in Glasgow, this time on Hope Street. I routinely get lost in Glasgow's grid system so the fact The Pot Still has a golden sign poking out the side is always a great relief for me. It's a warm, family run pub that contains among the finest Whisky collections in Scotland. Also, certain staff wear 'work kilts', you genuinely have to see these, I'm told they found these kilts were being worn by workman in Seattle and the guys in the Still had to have them. Aside from their work 'uniforms' their Whisky gantry is stacked high with hundreds of Whisky while a glass cabinet in the middle of the gantry contains the really, really special stuff. I had previously sent to Sean samples of the Lady of the Glen Ben Nevis and Secret Speyside and he brought them along so we could try both of them together…which I thought was incredibly nice. The evening was a thoroughly enjoyable experience and Sean was kind enough to get a special Glen Moray from…the glass cabinet, the lovely sherbet flavours this Glen Moray gave me were unforgettable and the story associated with how The Pot Still came to get the last few bottles is even better, but I will leave that for you to ask them.
Needless to say I missed a couple trains home that night speaking to Sean about Whisky, Prince, Sgt. Peppers, memes and a whole lot of others things only found at the bottom of a pint(s) and quality dram(s).
The next time you are in Glasgow I recommend both Bon Accord and The Pot Still, you won't find a better choice of quality Whisky anywhere else or nicer folk behind the bars.