Usquabae Opening On Hope Street Edinburgh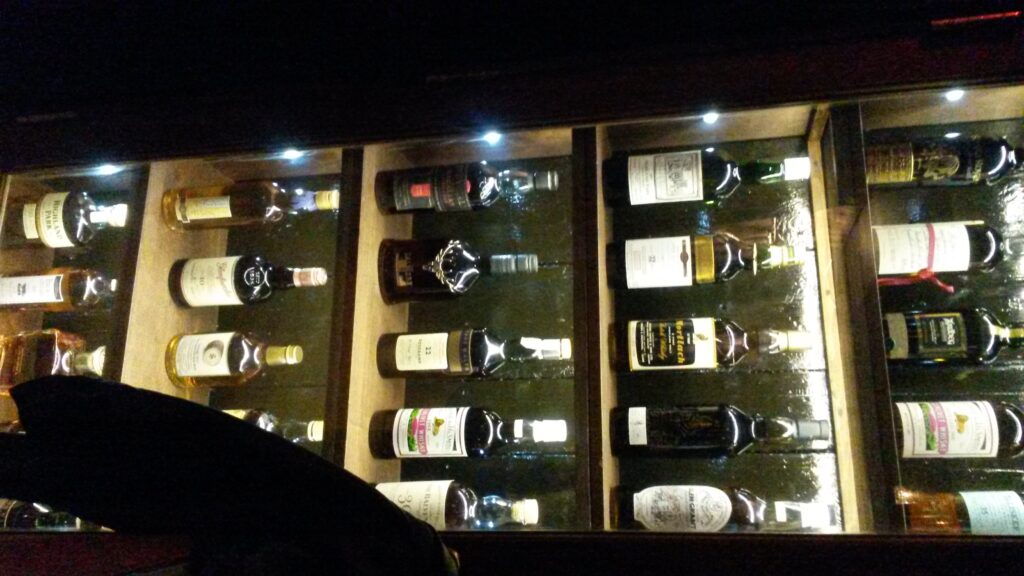 Usquabae glass cabinet, containg lots of rare treats
On Thursday I was invited to the VIP opening of the new Whisky bar, Usquabae on Hope Street Edinburgh. Down the stairs below Ryan's bar sits this new Whisky gem, decoratively inspired by The Bard's 'Tam O' Shanter' expressing a haunting Scottish forest. There are all alcoves situated around the main bar area for private seating and you can be assured of a very intimate evening as there is plenty of nice places to sit or stand depending on your preference.
On entering the bar with my wife we were warmly received and offered a Whisky cocktail and a glass of prosecco which we gladly accepted. I had previously been in the bar to speak to Chris and I knew exactly where I wanted to sit, next to the glass cabinet that had all the rare collectible Whisky in it, situated to the left of the bar. However, those seats were occupied so we milled over to a nearby table to drink in the atmosphere…and wait for that couple to leave their seats. At our table were the Whisky and drink menus and I was incredibly excited to see what Chris had in his gantry as it appeared very impressive behind the bar and I was aware that with his background at the Edinburgh Whisky Blog it would be exceptional.
Over the course of time we were there we ordered four Whiskies but the two that stood out for us were the 15 year old Bowmore Darkest and a GlenDronach 15 year old Sherry Cask. Usquabae have over 400 whiskies which includes lots of Sherry Cask and different cask finishes which is something I'm really enjoying at the moment.
Aside from the great collection of Whisky, I strive to add that for the quality of Whisky it is affordable. Considering the location and environment it is definitely well priced which is a bit unusual in Edinburgh.
After a period of time, that couple sitting next to the glass case vacated their seats and we moved in. The glass cabinet is a real attraction, containing among others a handwritten Macallan, it is definitely worth viewing as there includes closed distilleries bottles too which I'm told you can actually buy there.
Usquabae had some tremendous canapés, as VIP events go these canapés were divine. Both my wife and I, despite having had our tea before we went, devoured the venison, cheese and dessert ones like selfish monkeys. I can only apologise if others there failed to get their share but I can assure you that they were exceptional.
It was a very enjoyable evening and if you're in the area you should drop in and scout out a Whisky as you will surely find one to your taste at a respectable price.