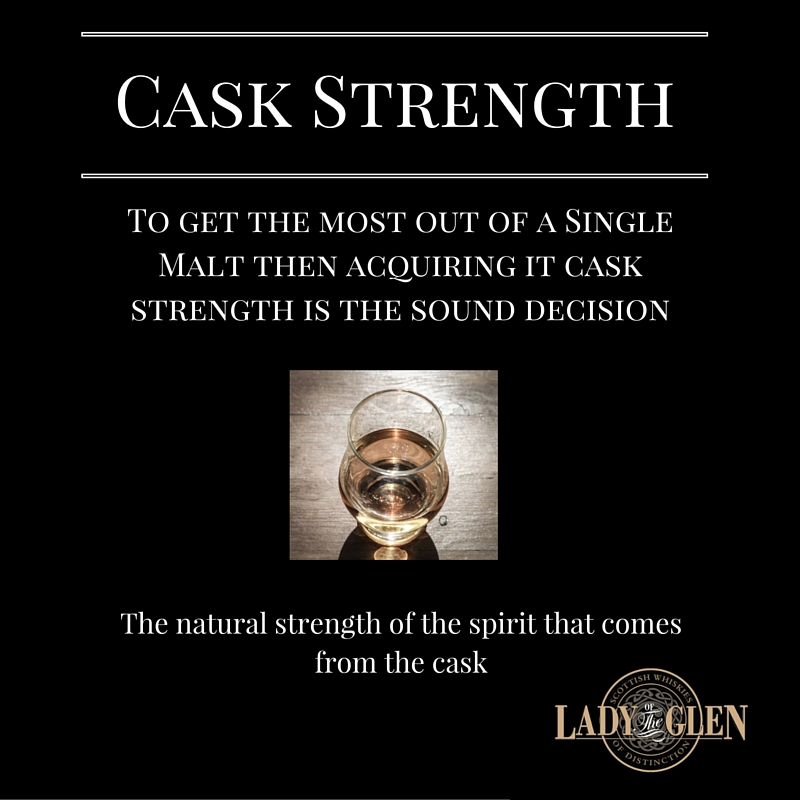 To get the most out of a Single Malt then acquiring it cask strength is the sound decision.
Cask strength is a deluxe feature in rare and limited edition Whiskies such as those provided by independent bottlers. It increases rarity, as most Whisky releases are between 40 – 46% alcohol (alc) and it suits the Whisky aficionado as these releases allow the individual to create a landscape of uniquely tasting drams through variation of water types and quantities to dilute the Whisky.
Cask Strength is the natural strength of the spirit that comes from the cask. Usually this will be over or around 50% alcohol but it varies depending on how long the cask has matured and its maturation environment.
When Whisky is first poured into the cask from the still the alcohol strength will be over 60% and from that point on, while still in the cask, the Whisky will lose around 0.5% to 1% of its natural alcohol strength each year. When it comes to the point of bottling the distiller will make a call if it's to be Cask Strength or a desired Strength. The majority of Whisky is diluted to a desired strength whereby water is added to bring it down to 40- 46% because it is arguably more palatable for a wider market but perhaps more importantly there is less tax to pay on the lower alcohol amount which is always an incentive for a distiller.
Dramatic drops in Whisky alcohol strength while in storage are not unheard of and should the Whisky fall below 40% it can no longer legally be called Whisky so cask management is essential. Keep in mind that every cask is unique (mentioned in a previous post) due to the wood used in conjunction with the casks previous use and within that every warehouse is unique with its own climate which can influence the evaporation of fluid and alcohol – a warehouse in the warm lush of the Speyside valley will contain different Whisky from that warehouse located on the Coastal shores of Islay exposed to Atlantic's extremities. Strong cask management and regular re-gauging (the process of measuring a casks contents) of casks is not only an excuse to try a dram but essential in making sure the cask is maturing appropriately.
The hastening of the maturation process is something currently being explored in the US bourbon market in order to cope with the increased demand and it's a process which has become very controversial due the possible reputational damage an underdeveloped spirit brand of Bourbon would do to the entire industry.
All of our release have been cask strength and it's a feature we will endeavour to continue.