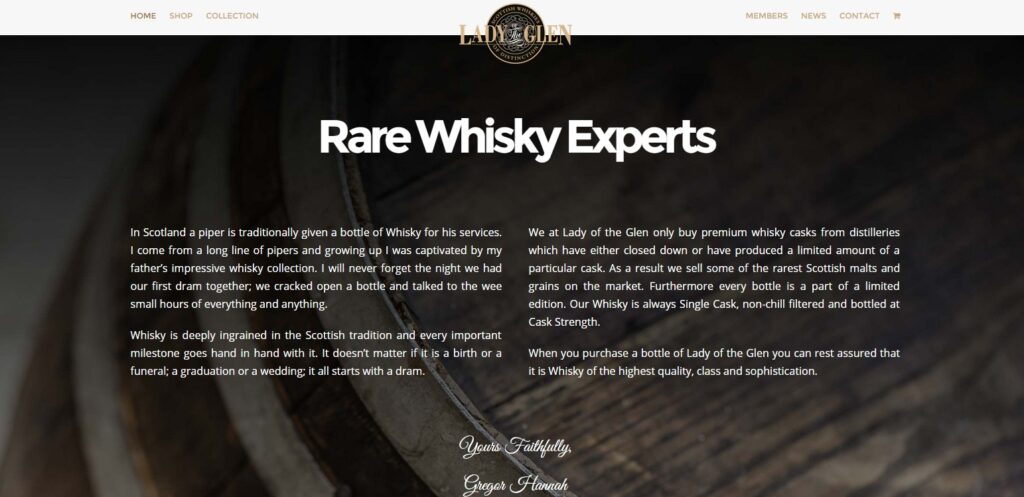 October 2014 saw the new site come online and hopefully you have had enough time to browse around it. The site was on schedule which was a feat when you consider the vast majority of other projects I undertook this year were very late.
Pixelbend Studios designed the site although Lux was the catalyst for the site redevelopment as they had identified a number of issues with the previous website that could inhibit the future business strategy.
I'm really proud of the site and Scott Fotheringham, the director of Pixelbend Studios, did a really great job modernising the site and adding lots of slick features which I wouldn't have originally thought of. Most impressive for me is how easy it is to navigate around.
Scott had this to say about the site,
"The new Lady of The Glen website brings this unique brand to the forefront of the web: a complete rebuild from the ground up, making use of modern technologies to deliver a great experience to the customer. A great quality brand is not just about having great products (although Gregor certainly does!); it is about engaging with the customer on every level, from the first impression of the site, all the way through to enjoying the last drop of a top quality product. We worked closely with Gregor on this project and produced an outstanding web experience from the new responsive design which looks great on all differing device sizes to the new streamlined, secure checkout, powered by the incredibly popular, industry-leading Stripe payments framework. Helpful new features such as real-time stock information and automatic order updates by email make the site more informative. The new site perfectly complements the unique brand Gregor has created and we hope that his customers agree."
Pixelbend Studios did a great job with actual site but credit is also due to Paul of Copper Mango who took the wonderful pictures of all the Lady of the Glens bottles, with the exception of the Caperdonich which I could not track down, that appear on the site. Paul was really helpful and as a perfectionist with intense attention to detail it was joy to work with him. Together Paul and Scott collaborated to create a site which really showed off the Lady of the Glen portfolio and modernised the site both functionally and aesthetically.
Feedback is always greatly appreciated with anything I do, so please feel free to contact me at Gregor.hannah@ladyoftheglen.com if you have identified any errors or criticisms with site, although praise is always greatly appreciated too.
Thank you,
Gregor