The Magic In Whisky Selection

At this time of year choosing the right whisky as a gift for a friend and loved one can be a difficult decision, so here are some hints and tips to help guide you.

First things first, you need to decide what type of whisky you are buying.

FOR DRINKING
For the person who likes whisky and is possibly just starting to appreciate it.

FOR SAVOURING
For the whisky connoisseur who knows their Pedro Ximenez cask from their Bourbon barrel and will enjoy a wee dram of it every now and again.

FOR COLLECTING
The collector is unlikely to drink it, or if they do perhaps they will buy two bottles: one for savouring and one for their collection.

When selecting a whisky for drinking, all that should matter is the taste! As a rough guide, think about flavours the person enjoys and match those to the tasting notes on the bottle.
To gain a better knowledge of how a whisky will taste (aside from reading the tasting notes) you might like to consider the cask the whisky was matured in, the region it comes from and its age. To delve further, read on!

CASKS

As a general rule of thumb, the cask a whisky is matured in is responsible for 50-80% of the bottled whisky's flavour. So understanding what flavours are associated with different casks is important.

Bourbon casks
These are the most common casks out there for the maturation of whisky. Previously containing American bourbon like Jack Daniels (even though technically it's a sour mash!), Jim Beam and others, the casks can no longer be used for the maturation of bourbon due to legal restrictions so they're often used for the maturation of whisky. You can expect whisky aged in a bourbon cask to have flavours associated with vanilla, fudge, honey, different nuts like hazelnuts and almonds and even coconut. The Lady of the Glen Tullibardine Vintage 2006 cask #617 (£90) is a fully-matured bourbon cask malt that explodes with sweet bourbon flavours like vanilla fudge and white chocolate.

Sherry casks
Sherry casks are becoming much rarer and harder to find. Previously used for varieties of sherry like Fino, Oloroso and Amontillado among others from Europe, with these casks you can expect a heavier and richer range of flavours. Hints of sweeter bourbon, toffee, winter berries, cherries, raisins and spices like ginger will be more prevalent. The Lady of the Glen Secret Islay Vintage 2003 cask #1828 (£145) or the Secret Islay Vintage 2002 cask #2905 (£100) are excellent examples of Olorsso matured Sherry Butt Whiskies.

Rum casks
Rum casks can produce a more fruity whisky with hints of vanilla, as well as notes of spices like pepper and paprika, and a buttery texture.

Port casks
Expect hints of red berry fruits from a port cask. We would always assume that any cask described as having a 'port finish' is from a ruby port cask, which is different from tawny port.

Tawny port casks
This is port that has been allowed to mature longer in the cask (over 3 years) compared to ruby port. You can expect more caramel, toffee and nut flavours.

Sweet wine casks
Sweet wine casks, such as ex-Marsala wine casks from Sicily, can add a sweetness and a nutty flavour to a whisky as well as a more glazed and rich colour.

Red and white wine casks
The flavours imparted by these casks will be reflective of their wine characters. Red wine will have some dark fruit characters whilst white wine (usually Chardonnay) will have a strong wine and vanilla character.

If you really want to delve deeper into the importance a cask plays in the flavour of a whisky, you might like to consider…

How often the cask has been used
If the whisky is from a cask that is a first fill, that means it's the first time it has been used for whisky since its original use. Naturally that means a first-fill cask will have more to offer and will influence the whisky more than when it's used the second or third time. Each time the influence will be reduced and you'll be left with less character in the whisky.

Cask size
Most whisky is matured in 225 litre Hogsheads (typically bourbon) or 500 litre Butts (sherry). These large casks have the disadvantage of providing less exposure to wood and a less intense flavour. That's why casks are carefully matured for years to extract as much flavour as possible from the oak. A quarter cask, or octave, might only contain 50 litres, therefore provide lots of spirit and wood contact and they are mainly used to give whisky flavour quickly. However whisky left too long in quarter cask can be overpowered by the wood. These casks can also pop, and can be very expensive. And because they have more extraction, they have greater evaporation rate so the alcohol level drops quicker and the yield is lower.

Double wood matured or wood finished
Finishing in casks is a process of moving the whisky from one cask to another so that it can take on some of the flavours associated with that second or third cask. Typically a whisky will have spent the majority of its life maturing in a bourbon cask, taking on all those flavours, and will then be finished for as little as 3 months in a sherry cask to draw some of those sherried characteristics. This is where you will see phrases like 'Finished in Sherry' or 'Finished in Port'.

REGION / LOCATION

To be honest region doesn't hold a lot of water these days, but the industry does still categorise itself this way and it's useful to be aware of the typical flavours you can expect from a region. But this is in no way gospel because Speyside whiskies can be peaty and Islay casks can be unpeated. The Lady of the Glen Ardmore Vintage 2009 cask #2615b (£80) is an example of a full-bodied peated whisky and it is from the Highlands.

For the collector, the location can be very important because the prize whisky for a collector is one from a closed distillery that no longer produces whisky.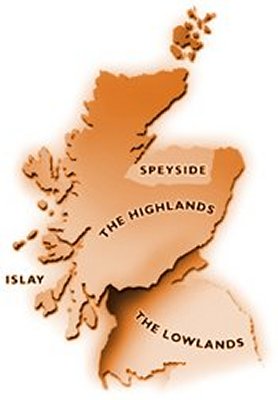 http://www.scotchmaltwhisky.co.uk
Highland
Floral with honey and heather but the Island distilleries have a more coastal and salty flavour profile.

Speyside
Lush with fruits of apple and pear as well as honey, nuts and spice.

Lowland
Lighter-bodied with more sweetness from grassy notes.

Campbeltown
Salty with similarities to Islay's peat and depth.

Islay
Coastal, salty and that famous peated smoke.

MATURATION OR AGE

Whisky will only mature in the oak cask. Once it's removed, its flavour has settled. However, it must remain in the cask for at least three years to be called whisky. Generally the older the whisky, the more expensive it is and this mainly due to age being an indication of its rarity. T

The alcohol strength which dictates its duty value reduces as the whisky matures, and the longer a whisky matures in the cask, the more strength will be lost through evaporation (the angel's share). So a 26-year-old cask should contain fewer bottles of whisky than a 12-year-old cask. It's this rarity that adds value to the bottles, attracting the attention of the collector or connoisseur.

The longer a whisky matures in the cask, the richer and more intense the flavour will be. Most whisky for drinking is bottled between 12 to 18 years old because this is when it's believed to have had enough exposure. Leaving it longer risks the wood overpowering the spirit. Ultimately the blender, the independent bottler or the owner of the cask will decide through regular sampling when they feel the whisky is ready.

Our oldest Whisky for sale is a 1989 Bunnabhain (£252), and despite the fact that the cask held 225 litres when filled, the yield was only 204 bottles!

INDEPENDENT BOTTLING

If you're looking for an exceptionally unique whisky then independent bottling or single cask releases might be exactly what you are looking for.

Independent bottlers like us, do not using vatting, our releases are typically cask strength, they're non-chill-filtered and have no added colouring.

Vatting involves combining multiple casks to create the distillery's own releases i.e. their traditional 18 year old, and allows them to present a consistent taste to lots of bottles.

Independent bottling is all about individual casks because every single cask is unique. The flavours can vary for a whisky distilled at the same time, then matured in similar casks for the same amount time because of where they were placed in the warehouse, or due of the micro-climate in the warehouse. For example, casks at the top of the racks are exposed to more heat, and casks closer to the walls are exposed to colder climates.

Independent bottlers like Lady of the Glen will also produce releases so that are unique, and different from the distillery that produced it. So although the DNA of the whisky is recognisable, the finished article will be very different due of the independent bottler's skill, choice of cask and management of the spirit.

Each and every one of our bottles are single-cask releases. Take a look at our shop.