Spotlight On Distributors. Switzerland, Alexander Weine And Destillate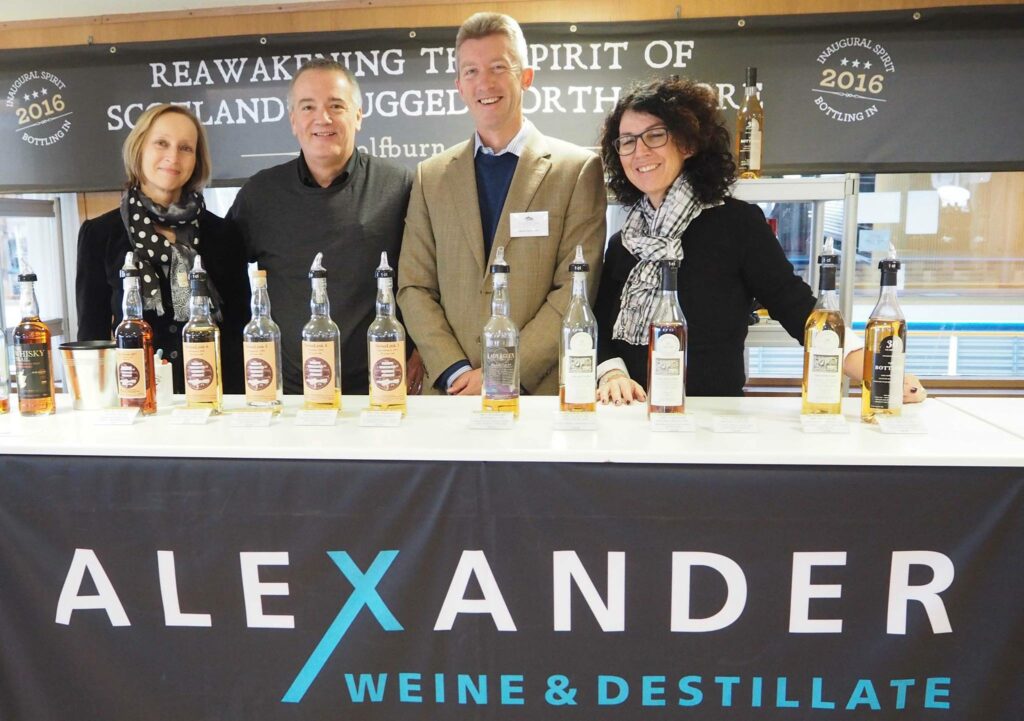 Pictured are the Alexander Weine & Destillate time
Over the past year Lady of the Glen has grown to export all over the world and I felt that it would be appropriate now to introduce some of the importers of Lady of the Glen. They are hugely important to the business growth and they have really helped to encourage me personally to challenge myself.
The importer to be placed under the spot light this week is ALEXANDER Weine & Destillate from Switzerland.
Their story began in 1989 when Alex and his wife started a part time wine business (I would have been 2 years old at this point!). In 1992 those jobs changed into full time jobs and they opened a small shop in Aarau. In 1999 they started selling spirits with particular emphasis on Whisky due to the tax liberalisation in Switzerland. Further growth culminated in 2005 with the opening of a much bigger shop and an integrated warehouse.
Now ALEXANDER Weine & Destillate generates their turnover through 60% wine sales and 40% Whisky. Among the two Lady of the Glen Bottlings they have they also work exclusively with Wolfburn and The Bottlers.
It was early 2014 when Alex got in touch with me and asked for samples of the then latest Lady of the Glen releases. After sorting their first order I eventually met Alex at a hotel on the outskirts of Edinburgh, a lot taller than I originally suspected, we shared some more samples and it was a great opportunity to speak face to face. Since then we have grown together and more Lady of the Glen has been exported with more planned for this year. They are the sole disitribtuors of Lady of the Glen in Switzerland and I'm very proud to be associated with such a professional and supportive group of Whisky enthusiasts.
Interestingly, I never suspected I would export to Switzerland and it was a very steep learning curve attempting to understand the paperwork. None of it would have been achieved without the assistance of HMRC, various couriers and Smart Export Scotland.
This year Alexander Weine & Destillate celebrate 25 years of business and you can find out more about their offerings here and here
In the next spotlight we look at Taiwain and S.Y.C. VINO & CIGAR COMPANY.