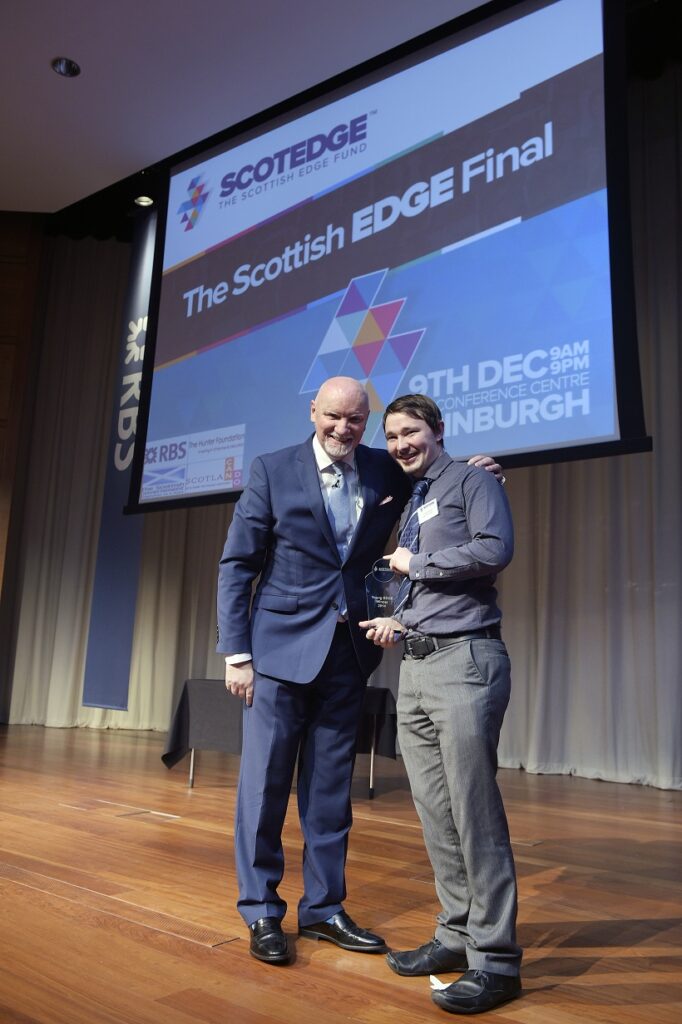 Sir Tom Hunter on the left and me (Gregor Hannah) on the right
On the 9th November I was very proud to collect a YoungEdge award, a sub category of The Scottish Edge Fund.
This year is the fifth year of the Edge and a total of £852,000.00 was awarded to 26 exceptional businesses and the category I was successful in the, The Young Edge, awarded £75,000.00 to 10 business led by entrepreneurs under the age of 30.
The Young Edge winners
The Scottish Edge Fund is a competition led by a board of directors that includes seasoned entrepreneurs, bankers and public sector supporters. It's a fund endowed by Sir Tom Hunter, The Royal Bank of Scotland PLC and the Scottish Government. The aim of the fund is to support small to medium sized businesses in Scotland with money, master classes, mentoring among other things. To get the prize you need to submit an initial application which details your ambition and ability to grow and then you must endure two rounds of business pitches in front of appointed gurus, similar to dragon's den. For me, this was a very anxious experience and I was fortunate to get some pitch delivery advice from Mel Sherwood and I can't recommend enough viewing this video of Amy Cuddy at a Ted Talks convention.
The final of ScotEdge was held on a rainy night at the huge RBS HQ in Gogarburn, which has no pavements but a 10 hole golf course. Specifically it was in the very elegant conference centre, which had a wood panelled stage and leather lecture seats, very comfy. What I found most amazing about the Edge was the tremendous amount of diversity offered by the businesses securing the awards. There was the Charity Kiltwalk, which organises walks for charity, Trans World Soccer, which offers the chance to live like a professional footballer and Lobster Pod, a live shellfish transport system among other really innovative and ambitious businesses.
Sir Tom made a speech during the ceremony on Scotland and if it can meet the economic challenges coming from China, India and how it can possibly match the entrepreneurial drive in places like the Silicon Valley. He concluded with an optimistic message, that Scotland can compete because we have community because we have a willingness to work together and I feel this is a true message because getting this award would not have been possible without the support of my family, friends and business partners. However, most important are the customers who continue to buy Lady of the Glen's deluxe Whisky, so thank you to you all!
If you would like to learn more about the Scottish Edge please read on here or if you would like to find out if your eligible visit here.
Best,
Gregor