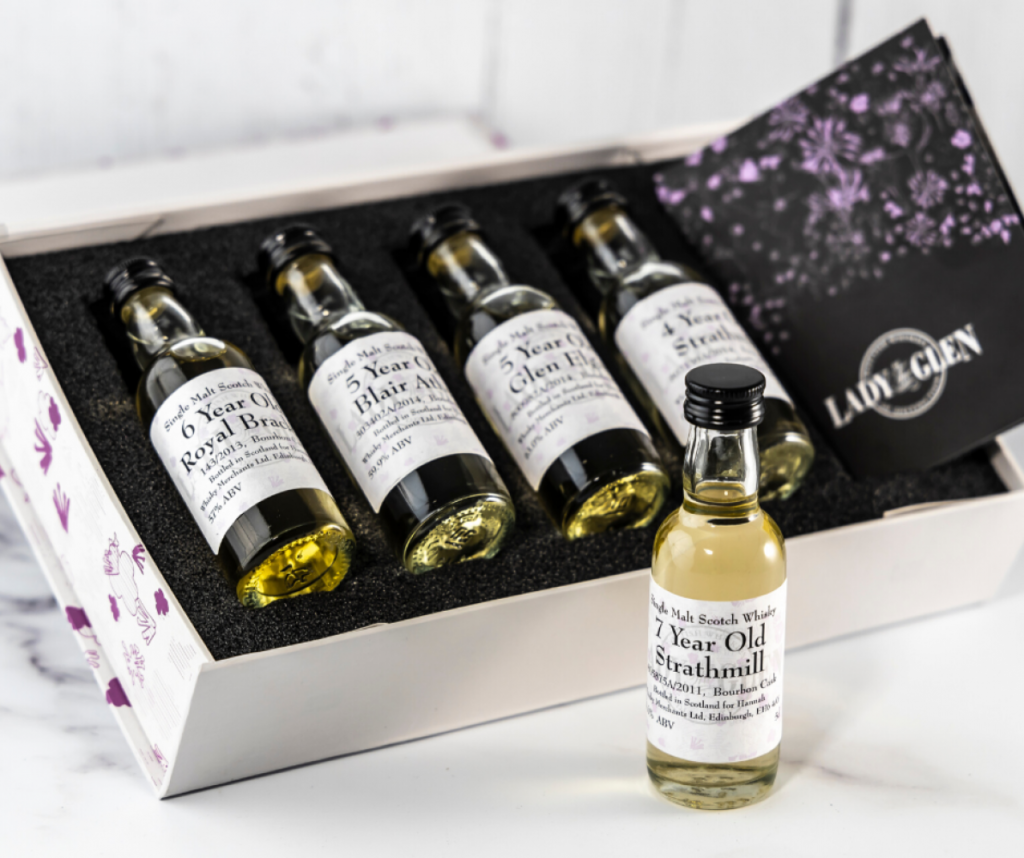 Miniature sets are what I find the most exciting part of auctions and since lock down we have all, to some extent, enjoyed our own little private tastings with miniatures. With the high amount of virtual tastings around its likely your gantry will be filled with lots of little 5cl bottles!
Miniatures are a great chance to try whiskies you wouldn't normally get a chance to try and over the years I've found that bringing miniature sets to the market has been one of the more challenging parts of the Lady of the Glen product offering; with the finite stocks and the requirement for bespoke labelling in addition to the fact it requires you to decant 70cl product that may sell anyway. However, now we are finally producing our own unique miniature so our friends can enjoy a broad range of high quality single cask whisky from home.
The Lady of the Glen Miniature sets were introduced to allow customers to try our range of Whisky. They are ideal as a unique gift experience and offer a rare opportunity try our single cask range. They are not for export and only suitable for the UK market due to the higher delivery cost outside the UK
5cl!
A set contains 5 bottles of 5cl Whisky so they are bigger than your average tasting dram
Unique offering
Within each set there is a random assortment of Single cask releases that are cask strength, non chill filtered without any colouring. Our straight to bottle Whisky contains all of the beautiful elegance of single cask matured Scotch. The miniatures are taken direct from bottles in our outruns,Lady of the Glen releases between five to nine hand selected casks in each outrun and outruns are four times a year. Our hand selected casks are chosen on taste from our portfolio of casks. Each outrun contains a broad range of casks that include especially sourced ex-sherry matured casks, traditional bourbon matured casks, well matured Scotch with over 15 years maturation to younger more direct flavoured drams!
Two Sets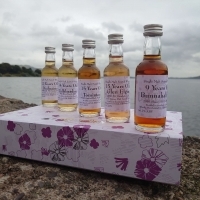 The Select Set contains 5 drams from our recent outruns which have been decanted into 5cl bottles. Each dram that is in this set has been released by Lady of the Glen. This is ideal for those Whisky drinkers that wish to try our range.  We always release unique sherry, port or wine matured casks in our outruns and you can certainly enjoy a broad range of quality drams within this pack. This set are priced at £45.00 and is only available on our website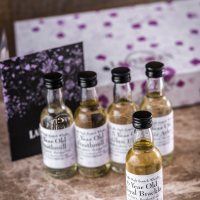 The Explorer set contains 3 drams from our recent outruns but also contains 2 drams from our Whisky that is still in maturation, the Whisky that is still in maturation tends to be younger but it is all still Single Cask Scotch. The sets are ideal for our friends that want to learn more about Whisky and taste how maturation influences the dram. This is set is priced at £30.00 
Free UK delivery
Yes, delivery is free in the UK and each set comes with a complimentary dram.