Jolly Topper Clyneilsh Vertical Tasting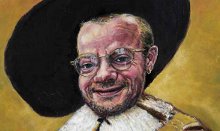 Jolly Topper tastings
Uncanny, a mixture of familiar and unfamiliar that is experienced as being peculiar. That was my interpretation of Jolly Topper conducting a vertical tasting on the obscure Clyneilsh Distillery as I am coincidently releasing a 17 year old cask from the distillery very, very soon. I had to go to this tasting…
Mark Davidson, the host of Jolly Topper tastings, held the event in the familiar surroundings of The Kilderkin on the Royal Mile and the tasting was a sell out!
Clyneilsh, is a coastal distillery located in the Northern Highlands. Constructed in 1968 although it has roots as far back as 1819 when the original distillery was founded by the Marquess of Stafford, and that distillery is now named Brora. Rumoured to have been founded to retain the market from local smugglers, the official reasoning was to take advantage of the local fertile land to support new farms.
As Mark revealed the distillery has controversial roots to that bitter time of the highland clearances and that the founder of the distillery was the Marquess of Stafford, it is a very substantial assumption to link the building of the distillery to that controversial custom.
The distillery's uniquely coastal flavours are derived not just from its location but also from its practices. They still use barley that is malted in the Northern Highlands and the water is taken from the Clynemilton Burn located a few miles north of the distillery.
Another fascinating taste associated with Clyneilsh is waxiness – this is rumoured to be because of the containers used by the lorries to pick up Clyneilsh; as Clyenilsh is so far up north, the lorries by this point have contained other whiskies, which although washed out of the containers, leave a residual wax layer which the Clyneilsh marries with when it is poured into the container.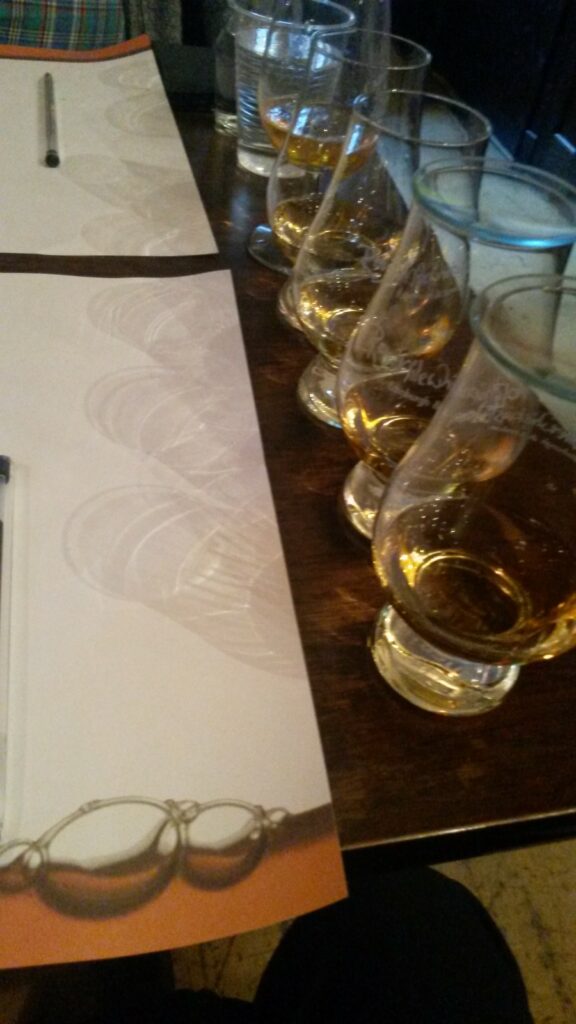 Fives Whiskies of vertical tasting
The tasting was fives whiskies, all different ages and amazingly unique tastes in each one.
14 year old, 46% alc bourbon cask distillery's own release £45.00 (light bodied, sweet nose, low alcohol, heather, grassy and lemon)
Distiller's Edition 15 year old 46% alc, bourbon cask, £67.00 (heavier bodies, winter fruits on the nose, malty, peaty, chewy, cherry)
29 year old, bourbon cask 58% alc, Scotch Malt Whisky Society,£130.00 (Very coastal, salted caramel, peppercorn (corny), light bodied and with a little water more floral)
17 year old, bourbon cask, 56% alc, David Stirk's Exclusive Malts, £74.00 (heavy, peaty, dark chocolate, caramel)
18 year old Refill Sherry cask, 56% alc (spicy, sherbert taste with a little water)
My favourite was the 14 year old distillery's own release. It was very light bodied, it had a lovely sweet nose with a heather, grassy and lemon taste on the palate. It was very nice. Will definitely be getting a bottle of that!
In my opinion, the Clyneilsh generally had a salted caramel taste excluding the 14 year old distillery's own release and in a number of the drams there was a nice hint of peat and coastal flavours.
Our Clyneilsh which will be released was distilled in 1997 and bottled in 2015. It's a 17 year old single malt aged in a bourbon cask with a cask strength of 56% alc. Our cask yielded just 267 bottles. Enjoy Rich vanilla which evolve into cooked banana and toffee. This soft creamy dram coats the palate with dark honey beautifully accompanied by a wave of sweet spice.