How Is Whisky Made And Where Does That Flavour Come From?
---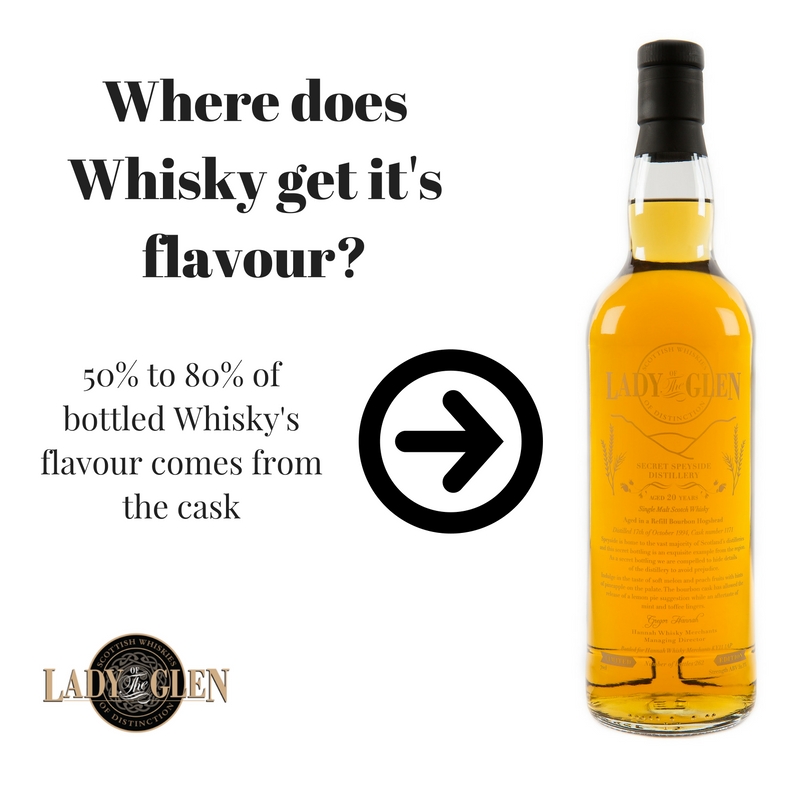 It has been suggested that Whisky takes 50% to 80% of its flavour from the cask it is matured in. As it gradually matures the alcohol strength reduces while the amount of liquid in the cask reduces too, this is described as the 'Angel's Share'. The longer the maturation then the greater the amount of spirit to wood exposure which allows the Whisky to take more of the Oaks cask's flavours.
This is why the type of cask used to mature and nurture a spirit is vital because the spirit will take on those characteristics, below is a list explaining the type of Oak casks that can be used to mature Whisky and the type of flavours that they produce.
 Bourbon Casks – The most common cask out there used for the maturation of Whisky. Previously containing American Bourbon like Jack Daniels (even though it's a Sour Mash), Jim Beam among others. The casks can no longer be used for the maturation of Bourbon due to legal restrictions so they have historically been used for the maturation of Whisky. You can expect Whisky aged in a Bourbon cask to have tastes associated with Vanilla, fudge, honey, different nuts like hazelnuts and almonds and even coconut.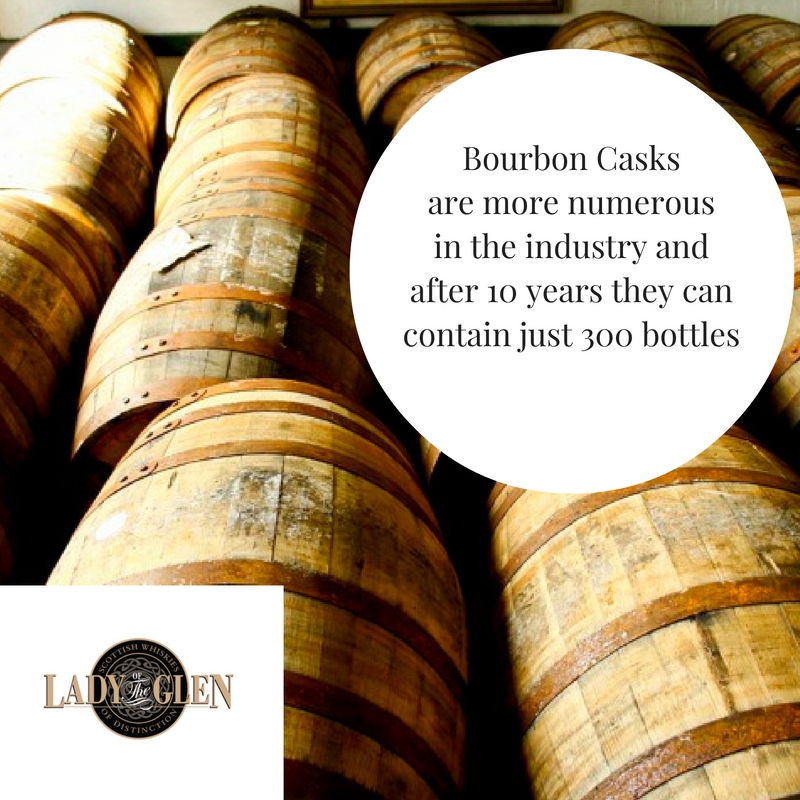 Sherry Butts – Becoming much rarer and harder to find. Previously used for varieties of Sherry like Fino, Oloroso and Amontillado among others from Europe. With Sherry you would expect to get a heavier and richer range of flavours, common flavours include – slightly sweeter than bourbon, toffee, winter berries, cherry, raisins and spices like ginger will be more prevalent.
Rum – fruity, vanilla and buttery with spices like pepper and paprika
Port – similar to Sherry with more red berry fruits and dark chocolate
Wine –sweet, dried fruits and raisins
Some other details that are a little harder to find related to casks are below, these too will impact the flavour
Refill Casks – If your Whisky is from a cask that is a first fill, that means it's the first time it has been used for Whisky since it last contained the Bourbon or Sherry etc. Naturally that means a first fill cask will have more to offer and influence the Whisky compared to when it is used the second or third time, each time the influence will be reduced and you'll be left with less character in the Whisky.
Size of Cask – The larger the cask less exposure to wood and the less intense flavour. A quarter Cask for instance provides lots of spirit and wood contact and they are mainly used to give Whisky flavour quickly, however Whisky left too long in quarter cask can be overpowered by the wood. It is typical for Whisky to be matured in a Bourbon cask Hogs Heads, which can contain approximately 225 litres or a Sherry Butt which can contain around 500 litres.
Finishing in casks/double wood matured or wood finished – a process of placing the Whisky from one cask into another so that the Whisky can take on some of the flavours associated with that second or third cask. It is common fairly common practice for whisky to be finished in a Quarter Cask, for the reasons expressed above, they provide greater wood contact and can express themselves on the Whisky quicker.