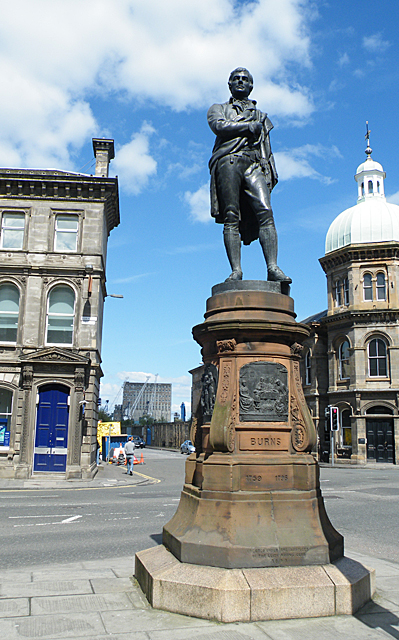 Robert Burns Statue in Leith, Edinburgh. Picture taken by Anne Burgess
It's the season of Burns' Suppers, you'll notice the struggle to book pipers and the prominence of Haggis in markets. A good Burn's night can be memorable for a multitude of reasons – a spicy and witty exchange in the toast to the lassies, a wonderfully expressed Immortal Memory, a passionate and intricate display of the pipes but always there is the good humour shared over the food and drink offered.
On this rarest of evenings we can delve into the romantic and adventurous works of the greatest poet the world has ever seen and if there is one thing this former 'excise man' (yes, excise man) was fond of, it was a tipple of Whisky/cratur. Whisky is referenced in countless of his works and specifically in the winter of 1785 he wrote the poem Scotch Drink, "O thou, my muse! Guid auld Scotch drink!" (read the entire poem here) in reference to Whisky. Such was Burns' passion surrounding Whisky that during the evening's celebration it is a tradition that when the haggis has been placed on the table a glass of whisky is offered to the chef and the piper who will drink it usually with the gaelic toast of "Slainte mhath" When the address to the haggis is finished the company again stand to toast the haggis with a dram.
Robert Burns had a wonderful lasting impression on Scotland, not limited to his legion of love children, through his work to bring together various stories of Scottish folklore and his own personal works of song and poems.
On this evening, or around it as is common with Burns' Suppers, make a special effort to get yourself to a Burns' Supper or Whisky tasting and toast The Bard but remember to learn some sort of song or poem before you go in case you get asked to sing or recite…
I'm heading to the Black Fox on Leith for an especially themed Whisky tasting while in February I'll be at a fair few suppers.
As is only fitting for Scotland's national icon, you'll need an exceptional whisky for the toast. Browse our selection of rare, cask strength bottles here – we recommend wildly romantic Ben Nevis to go particularly well with haggis.
A little about the headline picture I found interesting
"The statue is by D W Stevenson and was gifted to the town of Leith by the Leith Burns Club and unveiled on 15 October 1898 by R C Munro Ferguson MP. It is bronze, cast by J W Singer and Sons, and stands on a plinth of red sandstone, with bronze plaques illustrating quotations from Burns' Poems. It originally stood 6 metres east of this spot but was moved in 1961 to improve traffic flow".