5 Reasons To Go To A Whisky Tasting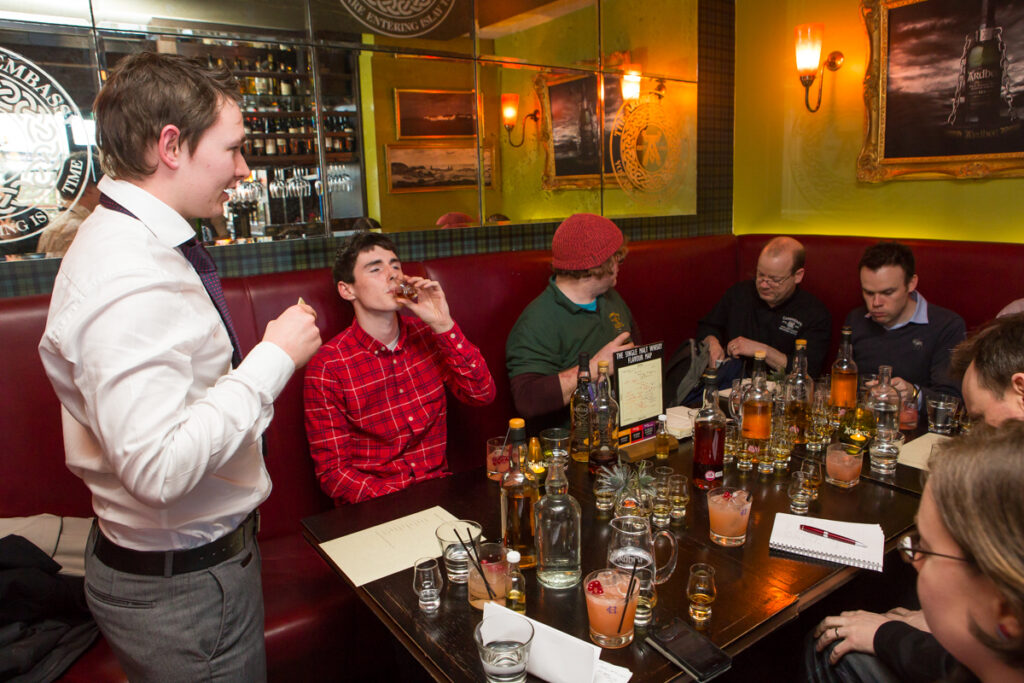 A tasting experience at the Whiski Rooms in Edinburgh
In light of the recent Whisky Tasting I hosted and in advance of the flurry of Whisky tastings that will be coming up in the Summer I felt it would be good to express what I felt are the best five reasons to attend your first Whisky Tasting.
We should be hosting a Whisky Tasting in May so to make sure you don't miss the date sign up to our newsletter or follow on twitter and Facebook.
Meeting new people
Whisky tastings are usually setup where you sit a table with a few other participants. Some participants will carry an air of confidence only associated with the Whisky connoisseur who has attended more Whisky Tastings than you have enjoyed Simpsons' episodes. While others will have a more virginal coy demeanour associated with someone who has not attended a tasting before but is terrified they will be challenged into submission by their host demanding to know the specific PPM of the AnCnoc they just tried. However true these stereotypes may be after a few Whiskies everyone is sharing feedback in a mutually enjoyable experience. The Whisky connoisseur is sharing and imparting their Whisky wisdom while the Whisky newbie springs up with unique tastes, like 'this tastes like the inside of a leather shoe in a good way'. A tasting also affords a wonderful opportunity for people to be social, to meet new people with interesting backgrounds or personalities (because only interesting people go to Whisky tastings) whatever happens you will have something to talk about whether it be the Whisky on show or your new found friend's collection of original Star War's memorabilia…like that 'Chewbacca film ready head' you promised yourself one day.
It's an opportunity to try Whisky that you would not ordinarily have access to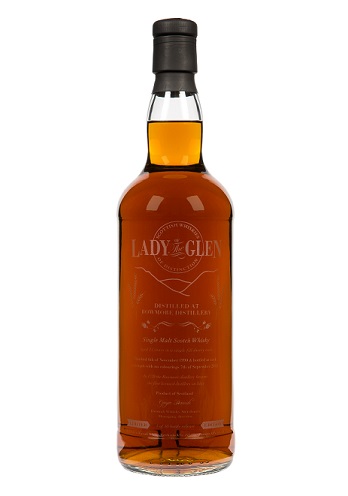 The Lady of the Glen 21 year old Sherry cask Bowmore 50%alc sold out and was only available at the Lady of the Glen tasting
At the Whisky tasting I hosted I was able to provide Whisky which had previously sold out and Lady of the Glen itself only releases rare high quality bottlings. The lady of the Glen 24 year old bourbon cask Invergordon single grain, 14 year old single Malt sherry cask Benrinnes, the 21 year old single malt sherry Cask Bowmore and the 21 year old single malt bourbon cask Littlemill were are all available for tasting despite them being completely sold out in the UK and practically impossible to source, the Littlemill was even from a destroyed distillery. The only place you can try these Whiskies at one time is at a Lady of the Glen tasting!
Learn something new
Whisky Tasting are not just about tasting Whisky. A good host will tell you about the distillery or a bit of information about the Whisky not just the tasting notes which are in many ways open to interpretation. Mark Davidson who hosts The Jolly Topper tastings in Edinburgh is fantastic at this, for example at the Benrinnes tasting I was at we learned all about the stills, the history of the distillery (destroyed twice) and its unique use of 'worm tubs'. These little pieces of information really help you to 'get' a Whisky you are sipping in a similar way to watching a film is not just about the climatic end scene but is something more enjoyable when you learn how the character develops and why they are the way they are. At the Lady of the Glen tasting I divulge more information about the business relationship with the Whisky and why it was chosen for release.
It's the perfect start to an evening
Whisky tastings tend to start around 7pm and last an hour or so, you will likely not be sampling at a rate of 25cl but slightly less and in many instances some food is provided. It's not the case that people are getting blind drunk but more by the end of the tasting there should be the rosy cheeks of merriment. Tastings normally have 5 to 7 drams, any more than that and the room starts to boil over into anarchy which is a host's nightmare! At the last Lady of the Glen tasting we were fortunate in that I added the 21 year old Sherry cask Bowmore as a special surprise dram at the end and some guests also volunteered some of their own Whisky after for those still socialising. At one tasting I recently attended the host held a wee Whisky miniature raffle and I got a Littlemill!
Essentially after the tasting you should be in merry frame of mind with a whole night still ahead of you.
It's not the same Whisky
Whisky tastings are not just 5 or 7 Whiskies from different distilleries – they are 5 or 7 very unique liquids. For example at the Benrinnes Whisky tasting I tried 6 Whiskies from the same distillery but they were all very very different – the cask, the bottler, the distillation date and other factors all combine to create a unique spirit. So when you are at a tasting and you see that it includes a Whisky from a distillery you have tried before don't assume that it's the same Whisky as it could and will likely taste very different from what you have previously tried. This lends itself to the idea that every tasting is different and that's why once you've been to one Whisky tasting you will find yourself going to more on a regular basis.
Those are your five reasons. If you want to find a tasting most traditional pubs will offer one it just a matter of asking behind the bar. As mentioned Jolly Topper Tastings are always wonderful and located on the Royal Mile every few weeks. Our Lady of the Glen tastings should become a more regular occurrence as of May so stay tuned to get an idea of dates.