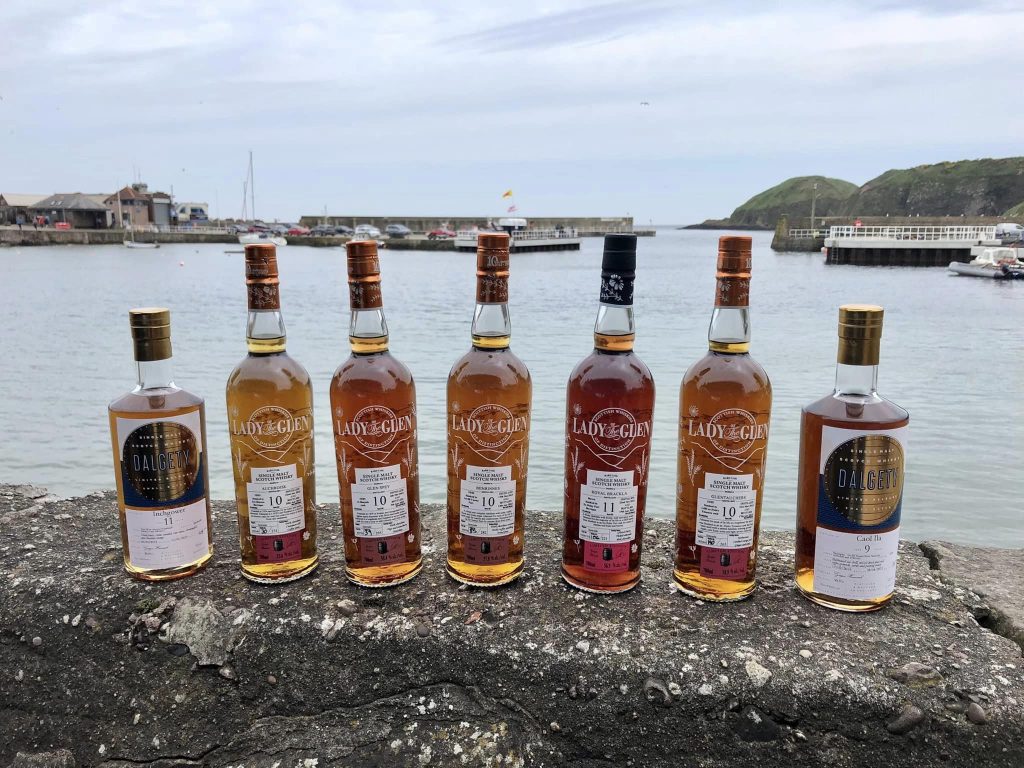 This quarter we are proud to release five Lady of the Glen rare cask releases from our portfolio.
We have chosen to select casks to present a broad palate of flavours while the casks are roughly the same age bracket all the finishes are in first fill casks ensuring a diverse assortment of flavour!
Auchroisk 10 year old. #802246 – Oloroso Finish. Bottled at cask strength 56.3%ABV
By far the most traditional offering in this outrun, this difficult to pronounce Speysider has been resting in a quiet oloroso cask offering sweet and spice characteristics.
The tasting revealed dark chocolate, cinnamon roll and coffee stout.
Benrinnes 10 years old. #300746 – Tawny Port Finish. Bottled at cask strength 57.8%ABV
This muscular distillate married delightfully with an ex-Tawny port cask. The combination of the nutty and fruity distillery character pairs perfectly with the chocolate and dried fruit notes from the port cask.
The tasting revealed dark chocolate caramel, sticky toffee pudding and dried fruit.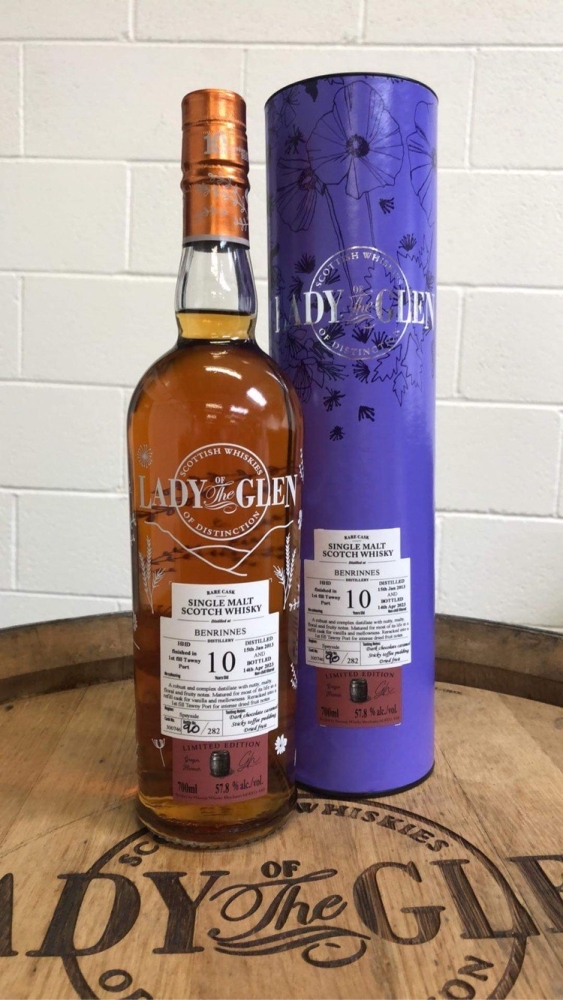 Glentauchers 10 years old. #800466 – ex-Islay refill PX finish 58.9%ABV
Exercising our right to be adventurous here, 2 years ago we transferred a hogshead of Glentauchers into an ex-Islay PX cask. This had added a very subtle smokiness and some dried fruit to the mix.
The tasting revealed Herbaceous notes, candied orange peel and ginger spice.
Glen Spey 10 years old.  #807700 – Banyuls Finish 58.4%ABV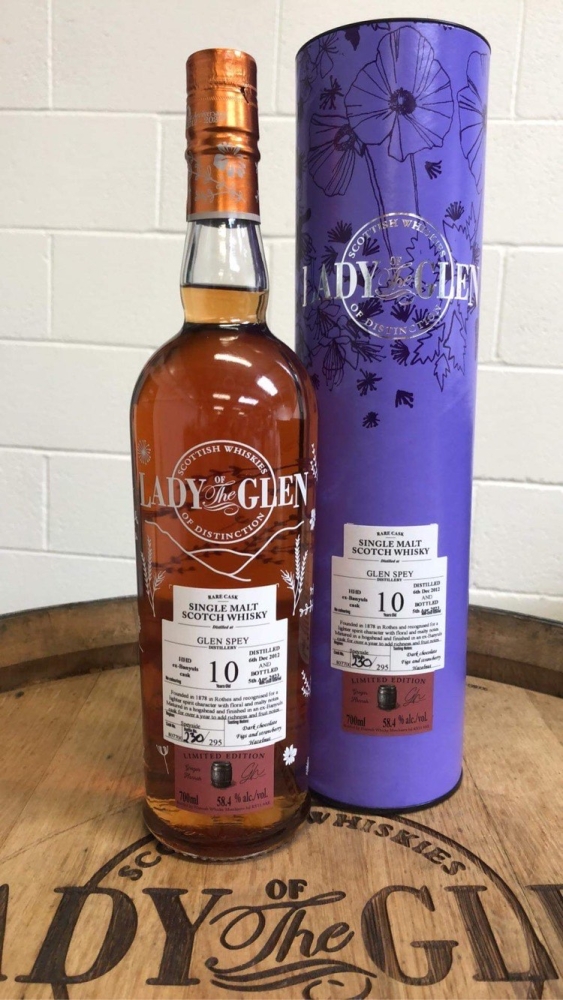 This relatively unknown distillery gets it place in the spotlight here with our first ever offering from an ex-Banyuls cask. This French fortified wine similar to port offers the spirit a fresh fruitiness and a nutty character.
The tasting revealed dark chocolate, figs & strawberry and hazelnut.
Royal Brackla 11 years old #1216 – Ruby Port Finish 56.9%ABV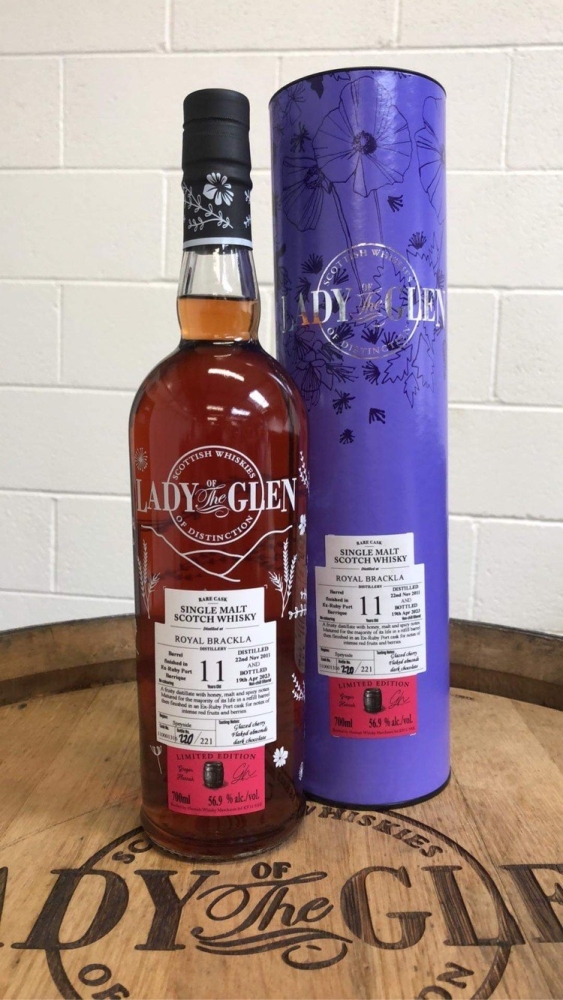 This spirit had a lovely fresh sweetness but lacked a bit of depth and complexity. To fix this we introduced it to a ruby port barrique adding chocolate and red berry notes.
The tasting revealed glazed cherry, flaked almonds and dark chocolate.
Complimenting our Lady of the Glen range we have released two Dalgety bottlings that included a Caol ila which is a marriage of two ex-Amarone cask finished sister casks. The second Dalgety is a marriage of two Inchgower casks that were finished in ex-first fill Oloroso casks sourced from Hidalgo cooperage in Spain.
Caol Ila 9 years old. Amarone Barrique Finish. 50.5%ABV