2014 May Gin and Gin Tasting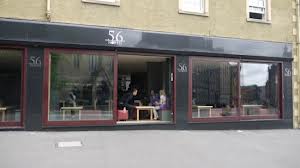 Over the weekend I attended my first ever gin tasting. Previously, I had been of the mind that gin was not a particularly diverse drink but one which I still greatly enjoyed with tonic and lime.
To begin with here is the definition of Gin from the course – Gin is potable spirit flavoured with juniper and other botanicals (such as coriander, angelica, lemon and orange peels) either by compounding or distillation. More simply put, all gins are basically neutral spirit, (high strength vodka) flavoured with juniper and various seeds, berries, roots, fruits and herbs.
Originally I had arranged the course as a belated Mother's day gift because my mum was and continues to be a drinker of 'mother's ruin' so I felt it appropriate to book us both on a gin tasting to learn a bit more about it. The wee course was held at 56 North in Edinburgh and I would encourage anyone to book direct with them because it's a very pleasant way to spend the afternoon for people who are new to gin or have historically only tried staple gins like Gordons, Bombay Sapphire and such.
At your table you are guided through eight different gins ranging from your Tanqueray, Export strength to Sloane's Dry Gin from Holland. In between, you get to sample Edinburgh based Gins and even a Shetland Gin.
Interestingly the unique thing about a gin tasting is the value that is placed on the tonic water used. Each gin is tried neat at first and then you are given a selection of tonics to choose from to adequately compliment your gin. You select your appropriate tonic by identifying how well it can stand up to the flavour of the gin and attempt to create the right balance. Fever Tree although the most expensive tonic complimented all the Gins I tried well and I would say that Fentimans was my least favourite because of the strong taste and fizz. The best combination I tried was the Portobello Road with the Fever Tree it was exceptional and afterward I had an entire glass with a big slice of grapefruit.
I love learning and I found that Gin distillation very intriguing. It follows a two stage process; the neutral spirit is made and is then flavoured through re-distillation with botanicals (seeds, berries, roots, fruits, herbs and spices). The most fascinating aspect of Gin is the multiple re-distillation processes available to distillers,
Steep & Boil, where the botanicals are steeped in the neutral spirit (watered down) and after adequate maceration the spirit is distilled in the pot still.
Vapour infusion, where the botanicals do not come into contact with liquid spirit at all! They are placed in a basket inside the still and only encounter the spirit as vapour. The botanical-infused vapour then condenses into a botanical-infused spirit and water is added to reduce to bottling strength.
Vacuum infusion, similar to the Steep & Boil, the spirit is redistilled with the botanicals under vacuum so reducing the temperature at which the ethanol alcohol boils.
And 5. Individual Steep & Boil and Individual Vapour infusion, each botanical is steeped and boiled separately and then the numerous resulting single botanical distillates blended together to create the finished gin or using Individual Vapour infusion method the individual botanical is held in separate baskets in separate stills and similarly blended together afterward. Although the most expensive method this affords the greatest control to the Gin maker when they create their blend of Gin.

Gin has strong links with whisky too. You will find that a number of new whiskey and whisky distilleries will produce Gin to keep them ticking over until their casks are ready i.e. Brecon Gin and Penderyn Gin in Wales each do this.
A few other interesting facts or opinions about Gin
It originated from Holland
It tastes better with Lemon
Vermouth should be best left to the 80s
The second largest market in the world for Gin is in Uruguay
If you want to learn more about Gin and you live in or near Edinburgh definitely visit the 56 North Bar or signup to a class. It has one of the largest gin collections in Scotland at over 100, I believe the largest gantry is in London and it has over 300 different Gins. You can also track Gin Monkey who has nice blog posts and gives you adequate instruction to create a Martinis.
I doubt HWM ltd will release a Gin under Lady of the Glen anytime soon but tasting different spirits and expanding your palate by trying new flavours is important in my opinion.
Thanks,